Oh my it has been a long time since my last post!  Things in Arlington have been pretty busy lately.  There always seems to be something to do in the summertime.  With the sweltering heat, turning on the burners and the stove-top were not high on my priority list.  Oh well, a girl's got to eat!  To keep the heat in the kitchen down I decided to make a quick meal and not fire up the oven.  I love Chinese food for dinner, especially because it is so easy to toss in some veggies and make a tasty, healthy dinner in a snap.  So I decided to try my luck with one of my childhood favorites, cashew chicken.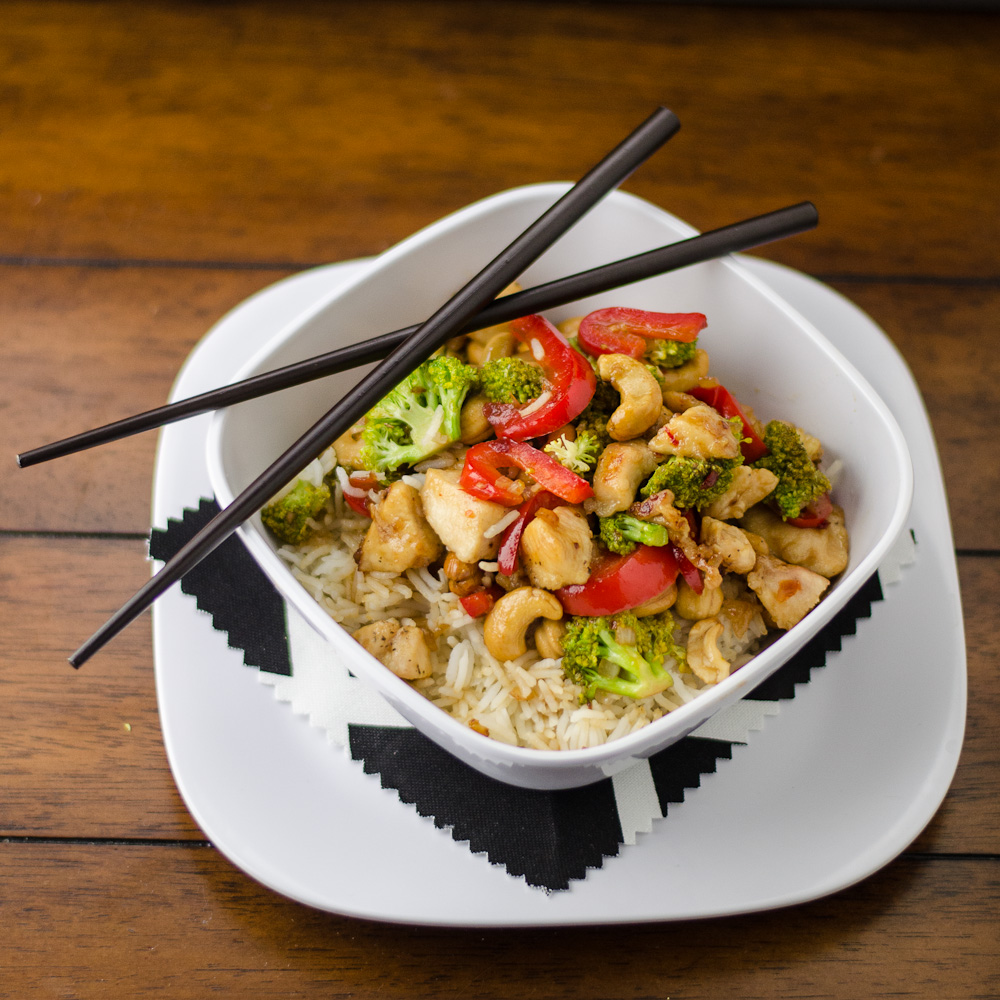 Cashew chicken is pretty easy and I love the taste and texture of the nuts in the dish.  In this version I used red peppers and broccoli because I like the red and green colors (and it was all that was in my fridge after a week of work travel and a 4th of July party that cleaned me out).  You can substitute any veggies you like into this dish.  I recently read a recipe that added edamame for a punch of protein and fiber and another that used water chestnuts for some crunch.  Feel free to experiment and make this dish your own!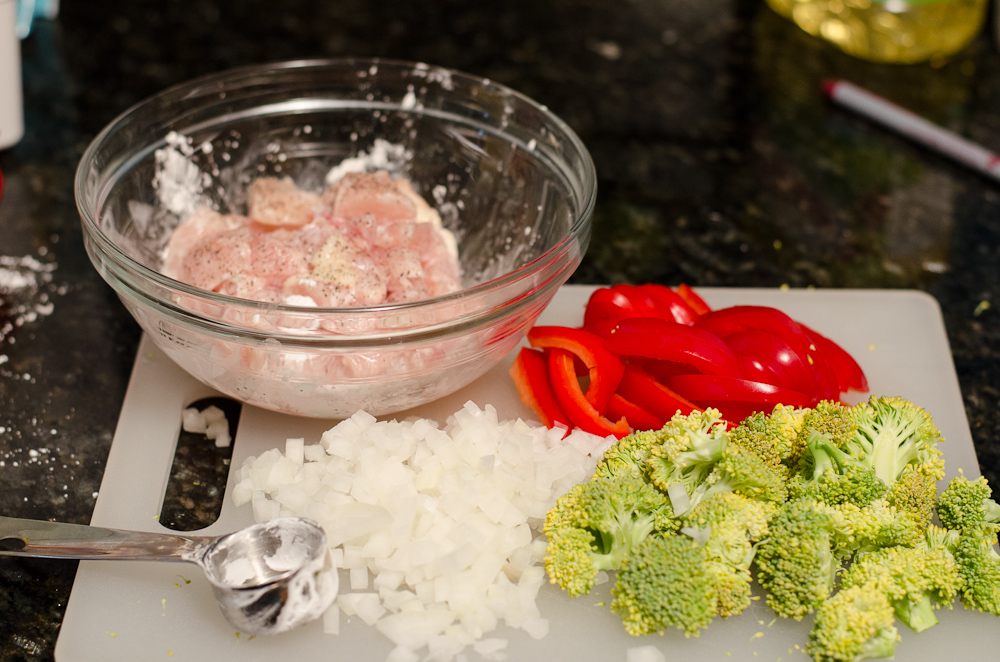 Cashew Chicken Recipe
1 cup rice(yields 2 cups cooked), prepared according to directions on the package
2 medium chicken breasts, cut into 1-inch pieces
3 T. cornstarch
2 T. canola oil
1 T. sesame oil (substitute canola oil if you don't have sesame)
2 c. broccoli florets
1 medium red bell pepper, sliced into strips
1 small onion, finely chopped
3 cloves garlic
2 T. rice vinegar
1/2 c. honey
1/4 c. soy sauce
2 t. dijon mustard
2 t. garlic chili paste (substitute 1/2 t. red pepper flake + 1/2 t. crushed garlic if you don't have garlic chili paste)
1 cup dry roasted cashews
1) Prepare rice according to instructions on the package and set aside.
2) Toss the chicken pieces in a bowl with the cornstarch and a pinch of salt and pepper.  Be sure the chicken is well coated.
3) Heat the canola and sesame oil over medium high heat in a large skillet.  When the oil becomes hot and shiny toss in the chicken, cornstarch mixture and saute for 4-5 minutes or until there is no visible pink on the chicken and the outsides are lightly browned.
4) Toss in the bell peppers, onion, garlic, and broccoli.   Continue to saute for an additional 4 minutes or until the veggies begin to soften.  Be careful not to over cook them, no one likes mushy vegetables.
5) While the veggies cook combine the rice vinegar, honey, soy sauce, mustard, and chili paste in a small bowl and whisk together.
6) Pour the mixture over the chicken and veggies and mix well to coat.  Allow the mixture to cook for 1-2 minutes until the sauce reduces a bit.  Toss in the cashews and saute an additional minute.  Serve along side the rice.Looking for some other quick and easy chicken dishes? Check out some of my favorite chicken recipes.
Thai Basil Chicken
Honey Peanut Chicken
Mango Chicken