Normally my posts are a few days behind.  Between making the food, photographing it, cleaning it up, and eating it there usually isn't time to process all the photos, type up the recipe, and think up the post.  Today, however, is the exception.  Today I experimented with a new recipe which I thought would take a few tries.  As it turns out first time was the charm and this was delicious.  It may be one of my favorite things I have ever made.  Nick and I wolfed down this risotto – we just couldn't get enough.  The farro has this fantastic nutty flavor, the white wine adds a delicious tartness, the tomatoes – which were roasted in the oven – give a savory tang, the Parmesan cheese and butter gives it a creamy and delicious mouth feel.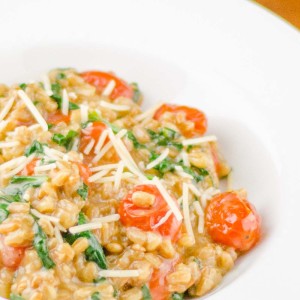 This recipe was actually inspired by a dinner I had while visiting my friend Kim in Chicago a few months ago.  She took me out to a really fantastic Italian restaurant for dinner.  We had the chef's tasting menu which was so fun.  I can't think of anything better than being given 10 different courses all of various yummy things.  While there were many dishes that we both loved while we ate a 5 hour dinner that night one that really stood out was the farro risotto.  Neither of us had ever had risotto prepared with farro but what made it even more fantastic was the creaminess of the cheese and the cherry tomatoes that were literally bursting with flavor.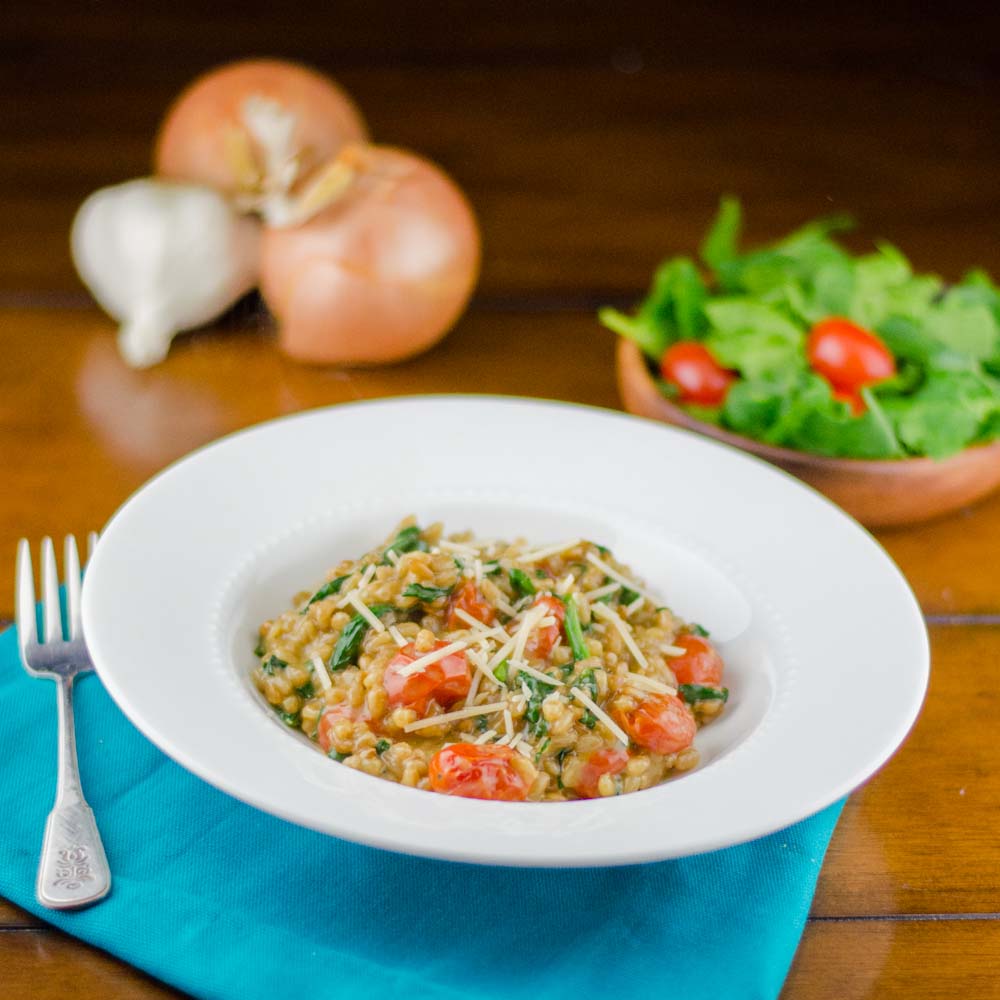 I took tons of pictures and even tasting notes on my phone because I knew I would have to try and remake this brilliant dish when I got home.  Though while typing this I realize how embarrassing of a dinner date that would make me… Oh well, Kim loves food as much as I do and I hope this recipe makes it up to her 🙂
In order to get the tomatoes to have that bursting with flavor quality I decided to roast them while the risotto cooked.  Then they could be added into the risotto when it was done which gives the tomatoes the perfect texture and taste without risking the tomatoes falling apart.
Farro Risotto with Roasted Tomatoes and Spinach Recipe
Ingredients
yields 4-6 servings
1 cup farro
1 cup water
1 pint cherry tomatoes
3 T. olive oil
1 medium shallot, minced
3 cloves garlic, minced
1/3 cup dry white wine
6 cups stock (chicken or vegetable)
2 T. butter
1/2 cup Parmesan cheese
1 1/2 cups fresh spinach, chopped
Directions
1) Soak farro in water for 30 minutes.  Drain and rinse.
2) Preheat oven to 400 degrees.  Toss tomatoes with 1 T. olive oil and salt and pepper.  Roast for 25-30 minutes or until tomatoes begin to burst.
3) Place the stock in a sauce pan and heat over medium heat until just simmering.
4) Meanwhile heat the remaining 2 T. olive oil in a stock pot over medium.  Add shallot and saute until softened (about 2 minutes).  Add garlic and continue to saute 2 more minutes.
5) Add farro to the pot and saute until toasted (about 3 minutes).  Add wine and stir constantly until evaporated (about 2 minutes).
6) Add 1/2 cup of the stock and stir constantly until completely absorbed.  Continue to add the stock 1/2 cup at a time until the farro is creamy and cooked through.  Add the butter, Parmesan and spinach.  Stir until well combined and the spinach has just wilted.  Stir in the tomatoes.  Serve topped with fresh cracked pepper.
Looking for some more pasta recipes?  Try out a few of these:
Shrimp Fra Diavolo
Orecciette with Spinach,
Sausage, and Beans
Fresh Handmade Pasta