With so many food bloggers there (I've seen numbers as high as 1.5 million!) I decided that perhaps making a gift guide for the friends and family of those food bloggers would be helpful around the holidays.  I own all the products on this list and recommend them for anyone that operates a food blog.  The list below is broken into sections to make it easier to pick out things that would work for the food blogger in your life.   I hope it helps! 🙂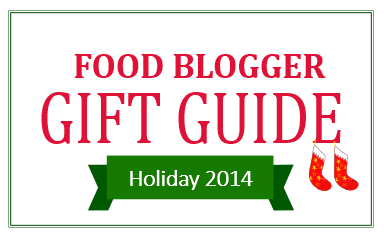 This post contains some affiliate links that I may receive a commission on if you make a purchase by following one of the links above.  I personally have used all of these products and find them instrumental in my food blogging.
The Photography Lover
The Tasty Food Photography eBook
Thousands of bloggers have used this book to learn to take better pictures. Pictures are just as important as the recipes (maybe more) for bloggers that want to drive traffic to their blogs and get recognized by magazines and book editors.  If the food blogger in your life wants to improve their photos it's the best way to go.
Price: $19
A New Camera Lens
If you love those food photos with a super sharp image in the foreground and a blurry background then you need a 1.8f lens. I rarely use a different lens as this one takes pictures that highlight the food with the least editing. Be sure to find out their camera make and model to choose the right lens.
Price: $125-$250 depending on the camera
Props, Props, Props!
Props are one of the things that make food photography fun. Even the most seasoned food blogger can always use new props. Colored fabric napkins, white plates, silverware, teacups, souffle dishes, mason jars, and baking sheets all make great gifts. Even simple parchment paper can make a great backdrop. Plates with interesting patterns or textures are also great finds.
Price: 50¢ – $15 each
Gadget Girl
The Book Worm
The Smitten Kitchen Cookbook
This cookbook, written by Deb Perelman, is filled with fantastic recipes and beautiful pictures. The best part? It's written by a food blogger! Deb got her start writing Smitten Kitchen, a popular food blog that nearly every food blogger loves. This book is a fabulous way to find new recipes, gawk at new pictures, and support a food blogger in the process.
Price: $25
The Professional Chef
This book, which is one of the textbooks required of students attending the Culinary Institute of America (arguably the Harvard of Culinary Schools). It is dense and reads like a text book but the techniques and recipes it gives as well as the advice make it worth every penny. Every serious home chef should read through this at least once – you'll definitely learn something new.
Price: $40
Will Write for Food: The Complete Guide to Writing Cookbooks, Blogs, Reviews, Memoir, and More
This book is a must have for any food blogger. It details just what success food writers do to be successful. The author interviews other food writers and compiles helpful lists that any food writer could use. The book contains passages about restaurant reviews, recipe writing, cookbook writing, and food in fiction.
Price: $12
Mastering the Art of French Cooking, Volume I: 50th Anniversary
This is one of the best known cookbooks out there. If the food blogger in your life doesn't have a copy get her one STAT. The book covers French recipes in an approachable way and empowers its readers to try new things. Julia breaks down classical techniques and makes them easy to understand and follow.
Price: $15