Hello Everyone!  I fretted a lot about what recipe to use for my first post back after such a long break.  Deciding on the perfect post with the perfect pictures seemed so crucial.  After much, much, much thought I decided that… I should post something Christmasy because it's that Christmasy time of year.   Luckily it has been Christmas cookie central at my house for the last few weeks so I had a few things in mind.  Enter: Candy Cane Cookies.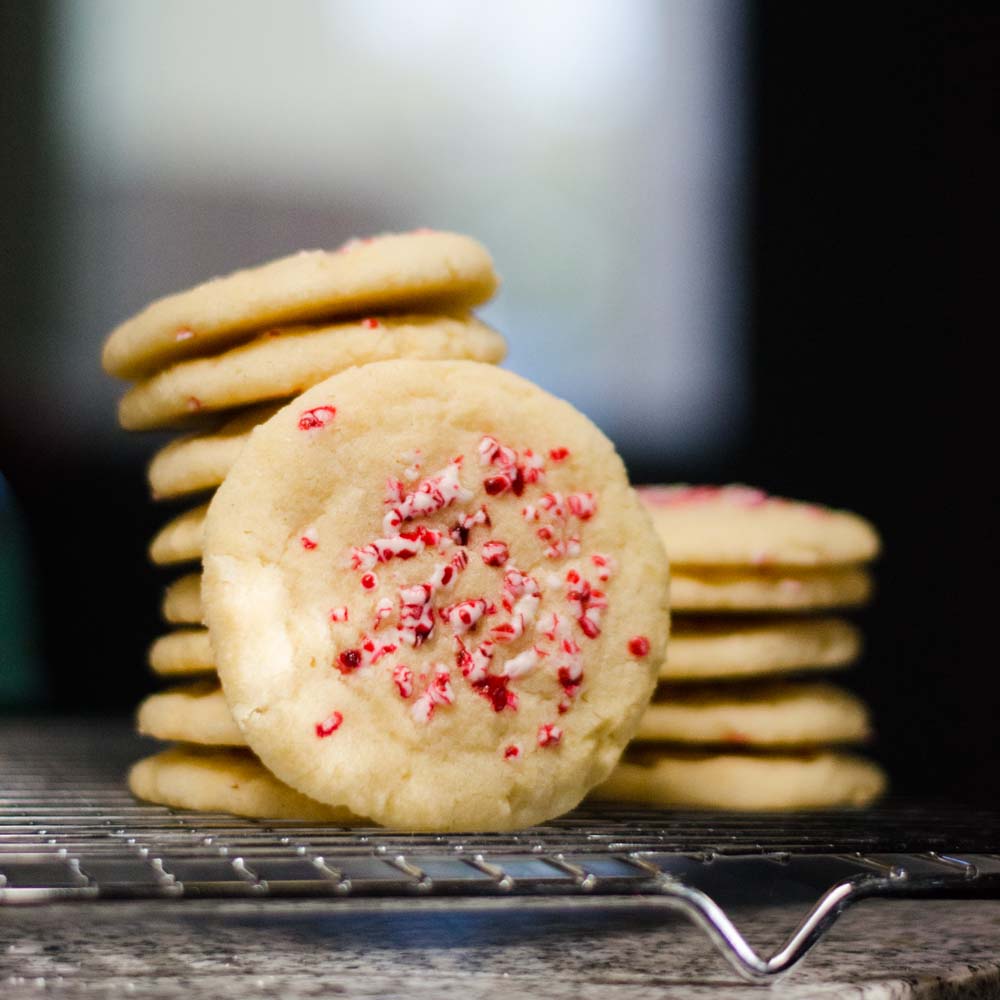 I would love to tell you that I made these cookies because of some childhood memory.  Some family tradition that dates back to the 1700s.  But I can't.  I made these cookies because I was walking through my favorite grocery store and there on an end cap sat a giant display of crushed candy canes.  They looked so inviting and filled with possibilities so I had to buy them.  I brought them home, sat them on the counter, and stared at them.  I had no idea what to make – I just knew it had to include these candies!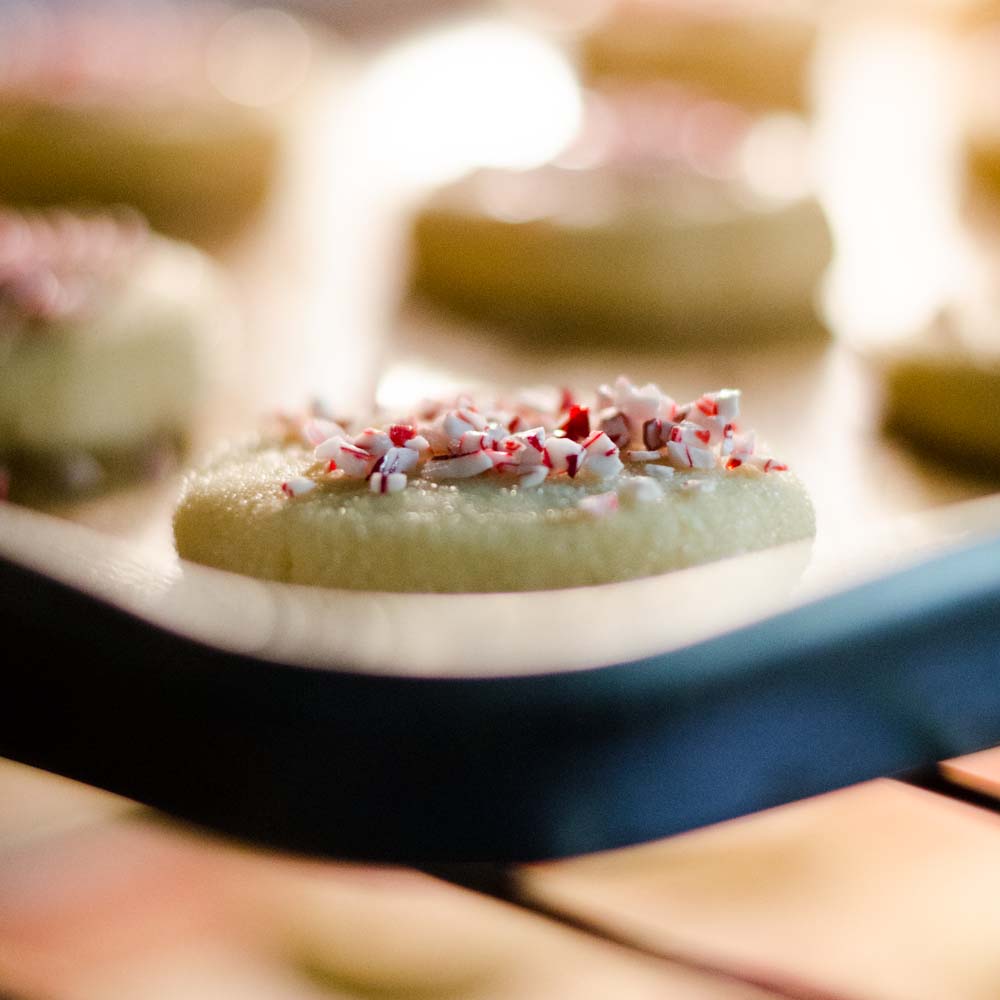 Thankfully one of my favorite books came to the rescue and offered me some inspiration.  In an American's Test Kitchen book I found a recipe for sugar cookies with crushed candy canes sprinkled right on top and I knew that was the answer.  Now if you're like me you cannot get enough candy cane flavor this time of year (or any time of year really!) so I didn't just sprinkle them on top but added them right into the dough as well.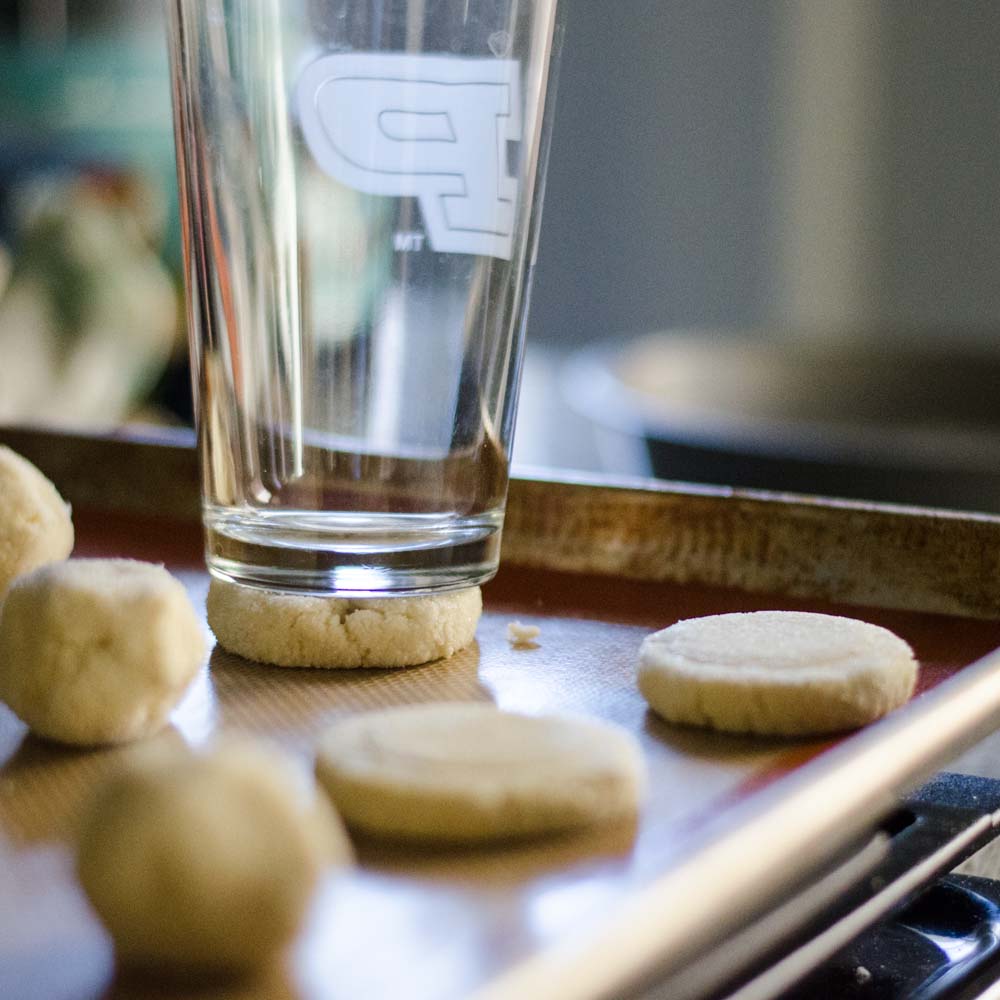 These cookies turned out delicious – the peppermint flavor was perfect and dressed up a simple sugar cookie in its Christmas clothes without requiring frosting!  I *hate* frosting sugar cookies.  It's so messy, so time consuming, and never, ever turns out that way the picture made you believe it would!  With these cookies no fear – cute and Christmasy without all the work… now that's my kind of cookie!
Candy Cane Cookie Recipe
adapted from America's Test Kitchen: Peppermint Sugar Cookie
Ingredients
1 1/2 cups sugar (plus 1/4 cup for coating)
2 1/2 cups flour
1/2 t. baking powder
1/2 t. salt
14 T. butter, softened
2 eggs
2 t. vanilla extract
2/3 cup crushed candy canes
Directions
1) Preheat the oven to 350 degrees and grease two large baking sheets (or use parchment paper or a silpat).
2) Cream the butter and sugar together in a mixing bowl until pale and fluffy (this usually takes about 4 or 5 minutes).  Add the eggs one at a time and then the vanilla until evenly incorporated.
3) Mix the baking powder and the salt in with the flour until evenly distributed.  Then slowly add the flour mixture to the butter mixture and stire until combined.  Add 1/3 cup of the crushed candy canes into the batter and stir until evenly distributed.  Note:  If you're using a greased cookie sheet and not paper or a silpat I would recommend leaving the candy canes out of the batter because the cookies may stick to the sheet.  If you do this simply omit the candy canes from the dough (still sprinkle them on top) and add 1/2 t. peppermint extract with the vanilla.
4) Pour the 1/4 cup of sugar into a baking dish or plate.  Then take about 2 tablespoons of dough and form a ball.  Roll the ball in the sugar and set on the greased baking sheet about 1-2 inches apart.  Using a drinking glass or measuring cup flatten the balls of dough until the are about 1/2 inch tall (be sure to grease the glass!  it helped to also place the glass in the sugar first then press the cookie).
5) Sprinkle the cookies with the remaining crushed candy canes (try to avoid getting any on the baking sheet if you aren't using parchment paper or a silpat or else you'll be picking cooked candy cane off your baking sheet!).
6) Bake the cookies for 10-12 minutes, remove from oven and let cool on the sheet for at least 5 minutes before attempting to transfer (if you get impatient and try to eat them right off the sheet they may fall apart a little – but still taste great!).