Last week I received an interesting email from  Williams-Sonoma (if you haven't shopped there before you should definitely check them out… they have everything a you need to make your kitchen functional and fancy – www.williams-sonoma.com).  Anyway, they are having a smoothie week and presented me with an interesting challenge.  Make a "Not Your Typical Smoothie" recipe – it could be an unusual ingredient or techinque – the choice was up to me.  The challenge seemed like a lot of fun and given this time of year is usually dedicated to indulgent recipes I thought it was the prefect time to put out something healthy out there for people to try.  An unusual smoothie took some thought – I didn't know quite what to do.  Most of the smoothies I make are filled with fruit and veggies but I have never added protein.  I don't care for protein powders – the taste and the texture were never appealing.  So I thought I would try to find a way to add protein without powders.   My first thought was peanut butter or yogurt but neither of those seemed too unusual.  Finally I landed on edamame.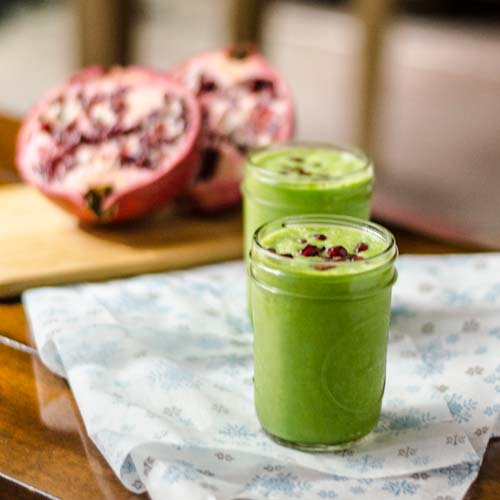 Edamame turned out to be the perfect ingredient.  I used the frozen beans which added texture to the smoothie – the frozen beans (be sure to take them out of their pods) made it smooth and creamy.  Since edamame doesn't have much flavor I could really put just about anything I wanted in there with it and it would take on that flavor.  After some debating with my friend Kim who was visiting from Boston we decided to go with Piña Colada flavor.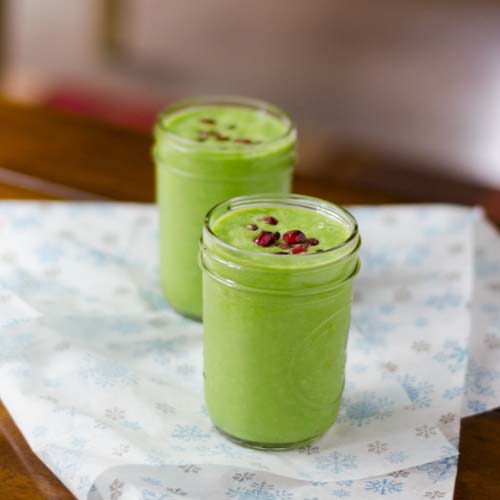 The first go was okay, it was lacking something.  We added in some pineapple juice to give it a more pineapple-y flavor.  That was better but still not quite right.  Finally Kim had a great idea – add in a banana!  The banana added some bulk to the smoothie and gave it the creaminess it was lacking.
Smoothies are one of my favorite things to make for that very reason.  It's easy to just toss in a few more things if you feel like it's lacking in flavor or texture.  Blend for a few seconds – give it a taste – add something else.  It's pretty difficult to ruin a smoothie (unless you forget to put the lid on and get it on the ceiling… but I haven't done that in at least 2 weeks!).  You can add and add and add until it's just right.
This recipe was fun to make and after seeing the green color we knew we had to add some pomegranate seeds to make it look Christmasy!  Hope you enjoy.
Kale and Edamame Piña Colada Recipe
yields 2 small or 1 large smoothie
1/3 cup edamame beans, shelled, frozen
1/2 cup frozen pineapple chunks
2/3 cup coconut milk
1/3 cup pineapple juice
1 cup kale
1/2 banana
pomegranate seeds for garnish
Directions
1) Place all ingredients in the blender
.
2) Blend until smooth.  Add ice or coconut milk to adjust consistency.  Serve with straws!
I love my blender – the Kitchen Aid pictured above.  There are plenty of blender options out there though.  If you're looking for a new blender be sure to check out Williams-Sonoma's website for tons of different options from top of the line to little and cheap: Williams-Sonoma Blenders.