Okay, so like has everyone been as obsessed Dutch Oven Bread as I have lately?  Seriously, it's EVERYWHERE.  And I want it, all of it.  At first when I saw these recipes popping up I figured there is no way they would work.  I mean come on, no kneading?? And a crunchy crust without a commercial oven???  Really??  I stand corrected.  Because, really, really, it's amazing.  I have tried a few recipes and so far my favorite is this one from Girl Versus Dough: No-Knead Dutch Oven Bread.  This week, however, I decided to try something new… something chocolaty.  And friends I am here to tell you… this is the best.bread.ever.  Full Stop.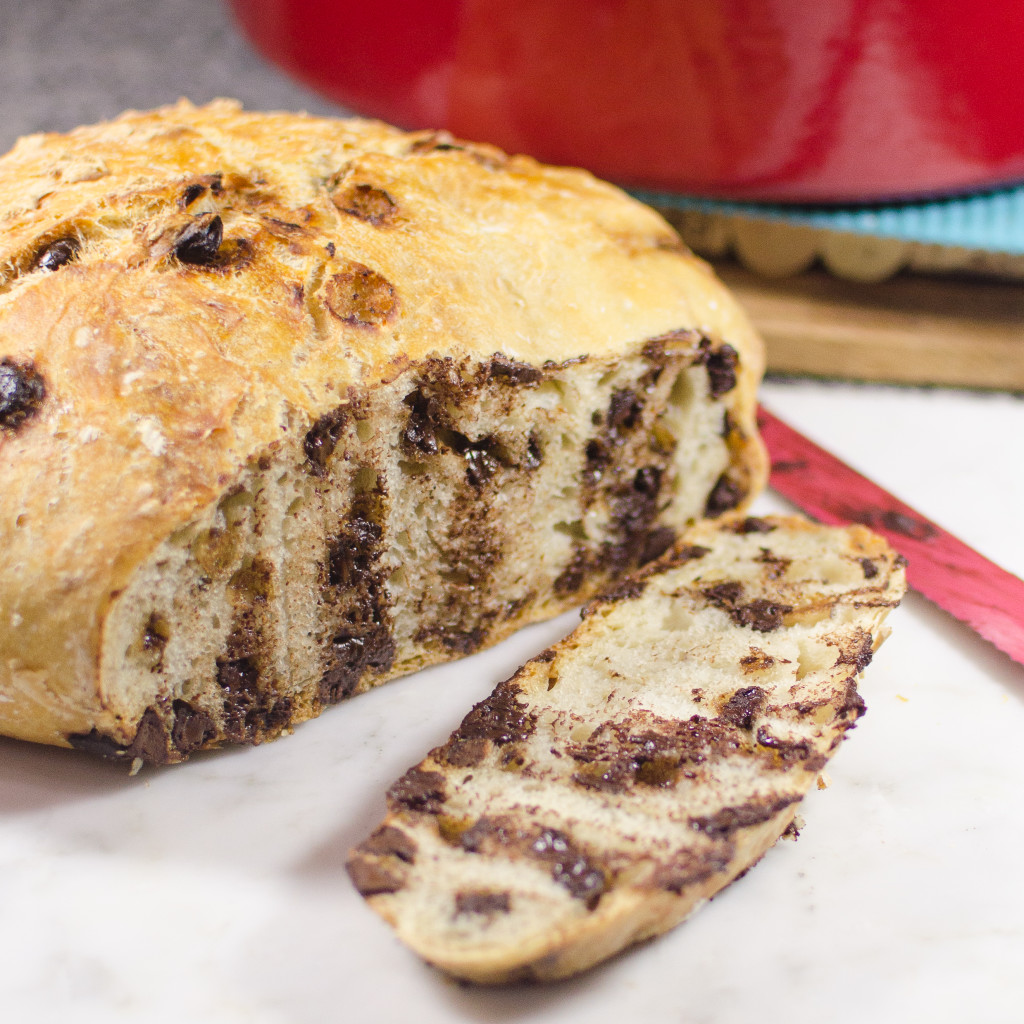 This bread is the best.  It's crunchy, it's chewy, it's chocolaty, it's perfect.  Imagine if your best friend bread had a baby with your other best friend chocolate chip cookie.  Seriously, it's that delicious.  It was perfect fresh cut right out of the oven with a little butter, it was perfect toasted all by itself, it was perfect with a little shmear of peanut butter.  In fact I have yet to think of a way it isn't perfect!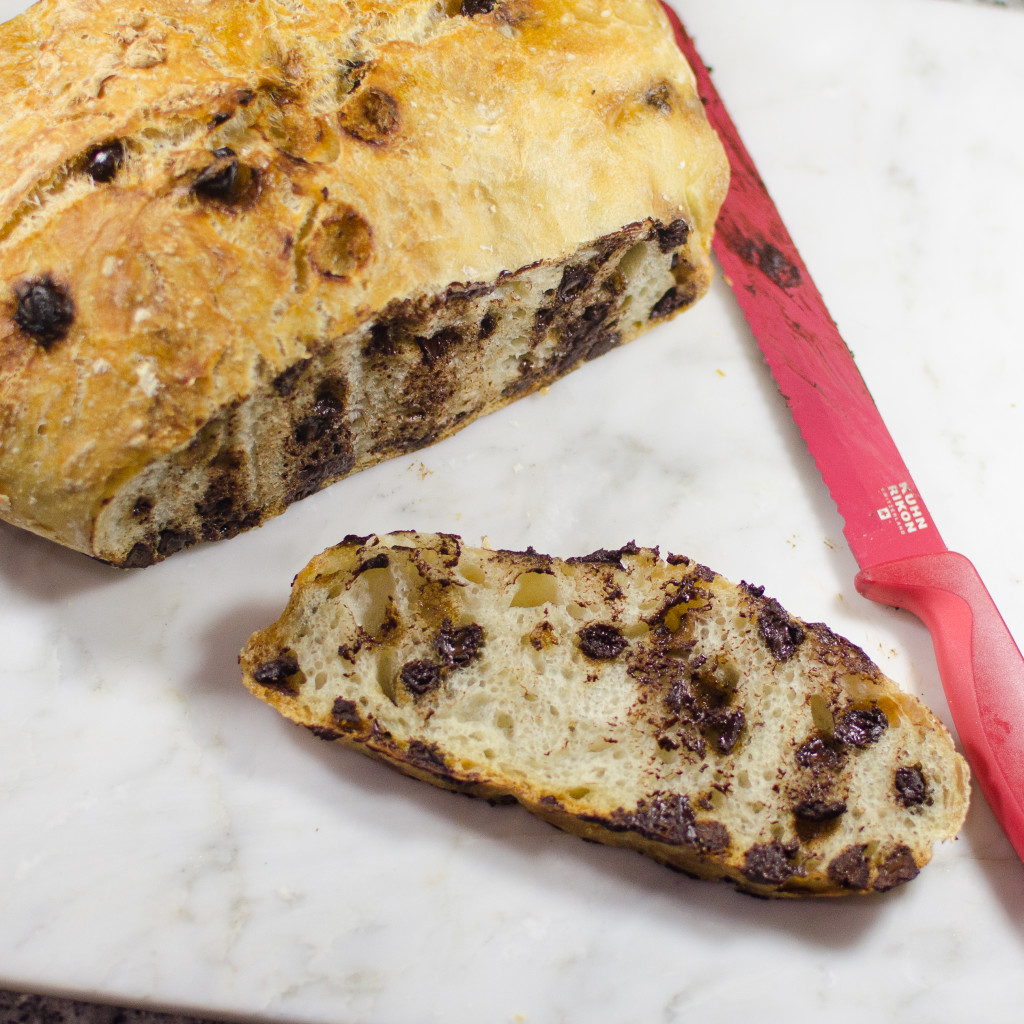 Okay so for just a minute I want to go food-nerd on you.  Because this bread is amazing for soooooo many reasons. Most of all there is no kneading involved!  That's right – zero, nada, zilch… but it still has that fresh from the bakery texture with a super crunchy crust and a dense and chewy center.  This is all made possible by the magic of fermentation.  That's right – the same process that brings us beer and wine is also bringing us this fabulous bread.  By mixing the dough together and allowing it to sit for at least 8 hours the dough begins to ferment which activates the gluten to produce strong, elastic networks giving the dough long and sticky strands.  This is made possible by the high water content of this particular dough – which is at 80% hydration (meaning 80% of the weight of the flour is the weight of the water added and since water is heavier than flour this is about a 2:1 volume ratio of flour to water).  Here is the result after the fermentation: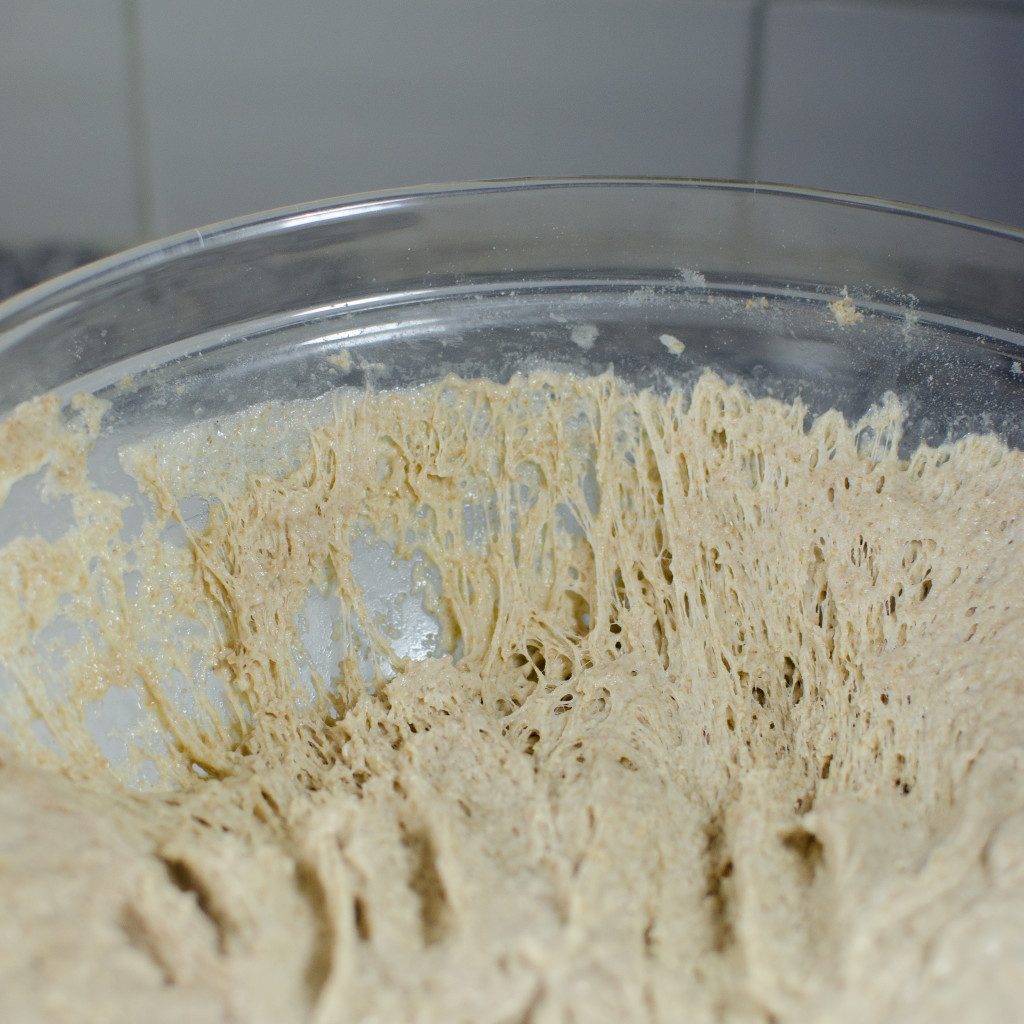 You can see the pockets of air and the long strands the gluten has formed.  This gives the dough a soft and chewy texture when baked even without kneading.  It also gives the dough a slightly tangy taste, like sourdough bread.  When you pull the plastic off the dough you'll notice a tangy odor – this is what is supposed to happen.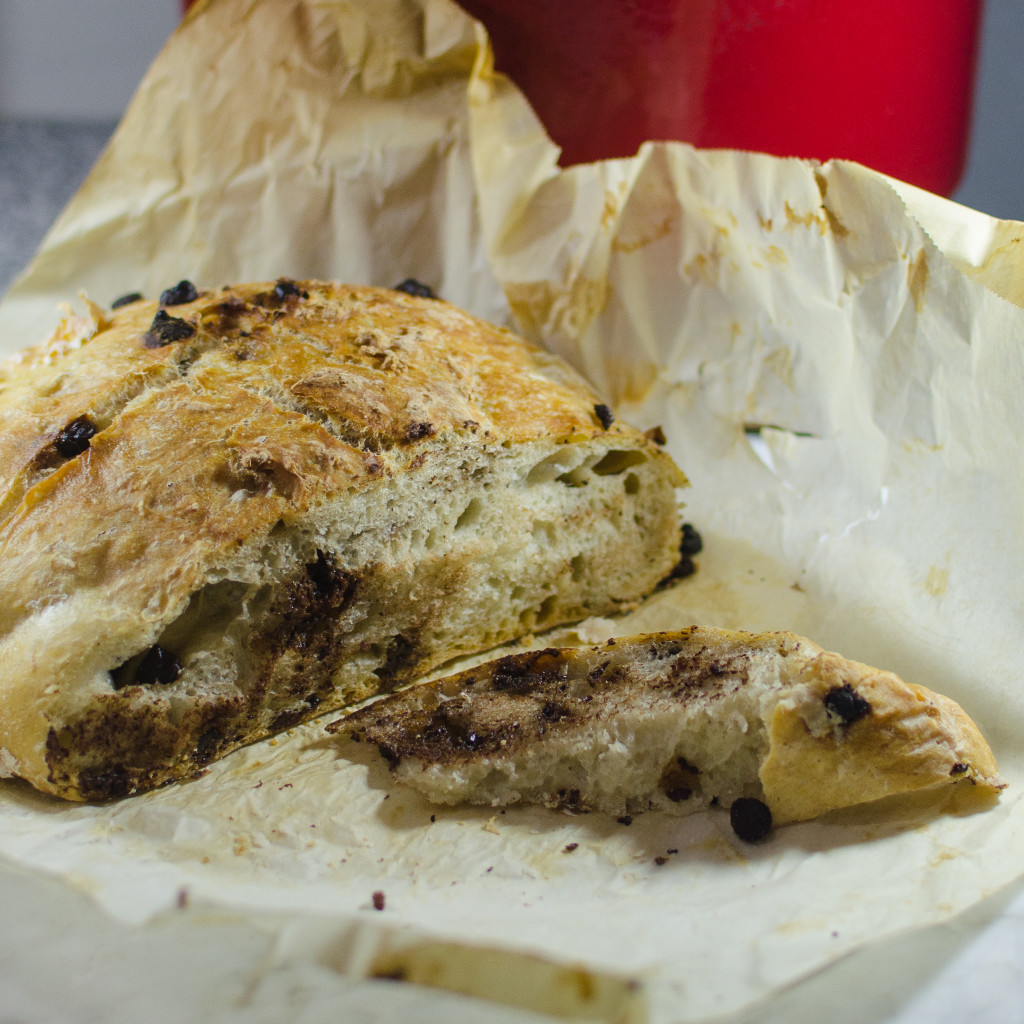 Okay, on to things less nerdy… that yummy, yummy taste!  Seriously, beware before you make this, it's addictive.  And each time you have another bite you find a better way to serve it than the last.  With how easy and delicious this is I'm sure you'll be making it all the time!
No-Knead Dutch Oven Chocolate Chip Bread Recipe
adapted from: Girl Versus Dough – No-Knead Dutch Oven Bread
Ingredients
makes 1 loaf
4 1/2 cups bread flour + 1/2 cup for dusting
2 1/4 cups warm water (105-115 degrees F)
1 1/2 t. active dry yeast
1 1/2 t. salt
1 cup semi-sweet chocolate chips
2 t. cinnamon
Directions
In a large bowl combine the flour, salt, and yeast and stir to combine.  Pour the water over the mixture and use a wooden spoon to stir until the dough beings to form.  It will be a very sticky dough.
Seal the bowl tightly with plastic wrap and set aside on the counter (don't refrigerate) for 8-18 hours.  During the time the dough will rise then slowly bubbles will begin forming on the top as it flattens out.  Note the dough will at least double in size when picking your bowl.
Place a 6-quart dutch oven
 in your oven and preheat to 450 degrees.  Meanwhile pour the chocolate chips and cinnamon on top of the dough and quickly knead or stir the dough to disperse.  Sprinkle the top of the dough with the remaining 1/2 cup of flour and shape it into a ball.  It will be sticky!  Place the ball on a piece of parchment paper and allow to rest while the oven preheats (at least 15 minutes).
Place the bread, still on the parchment paper, into the dutch oven, put the cover on top and bake for 45 minutes. Uncover the bread and bake for an additional 15 minutes until the dough is baked through.
Allow the bread to cool for 20 minutes (if you can wait that long!) before slicing.
If you don't have a dutch oven in your life, please, please get one.  I recommend this one:
If you must have the bread TODAY and don't have a dutch oven then you can make the same recipe and bake it in an oven safe bowl or casserole dish but know it won't come out with quite as crunchy of a crust and may get a little extra done around the edges.