Yeah, that's right.  I went there.  I made homemade Oreos.  I've wanted to make a cookie like this for a long time.  In fact, I tried making a homemade Oreos a few times before this.  Nothing ever turned out quite right.  It's not an easy cookie to try to replicate.  But, finally, here they are in all their glory.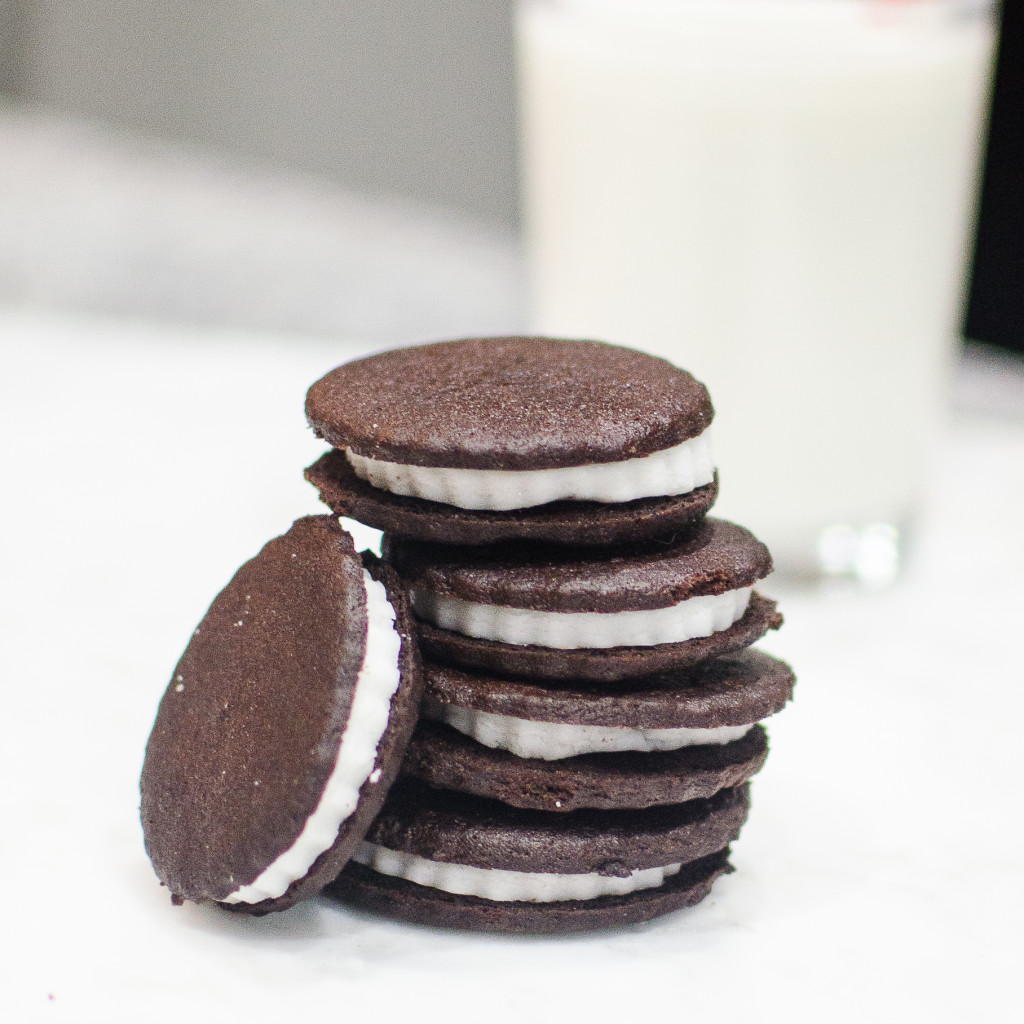 I wasn't kidding when I said I tried to make these many times.  In fact, I tried to make them four times.  The first three… just plain didn't work.  Oreos are tough – you need a crispy cookie that is light but not airy.  Even if you get the cookie just right the icing is tricky.  It's not a buttercream; it's not royal icing; it's not fondant… it's… well it's Oreo icing.  There really isn't anything like it.  For this recipe the icing wasn't really a problem.  It was pretty easy to figure out.  This recipe the antagonist turned out to be the cookie.  But I finally did it, I finally bested it, the wily minx that it was!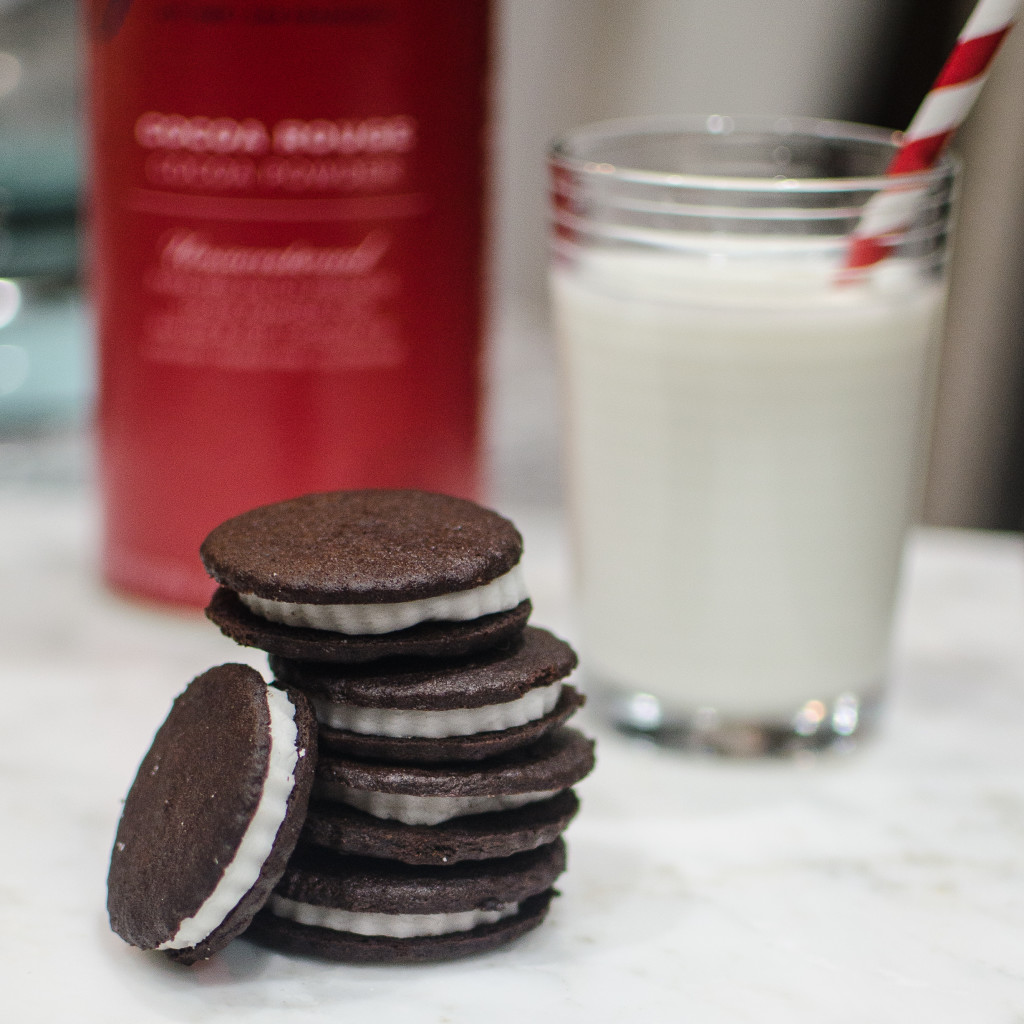 I tried a few different cookie recipes and just couldn't find something that was crispy enough.  When I finally got a crispy cookie it tasted too buttery.  I really almost gave up, figuring there was something about Oreos that required a factory and chemicals to create.  But finally, on my last try I found a recipe in an old cookbook of mine for chocolate cutout cookies.  The recipe needed adapted but it was the prefect start to Oreo cookies.  After subbing the butter for shortening, removing the espresso powder, and adding a bit of corn syrup there it was… the Oreo!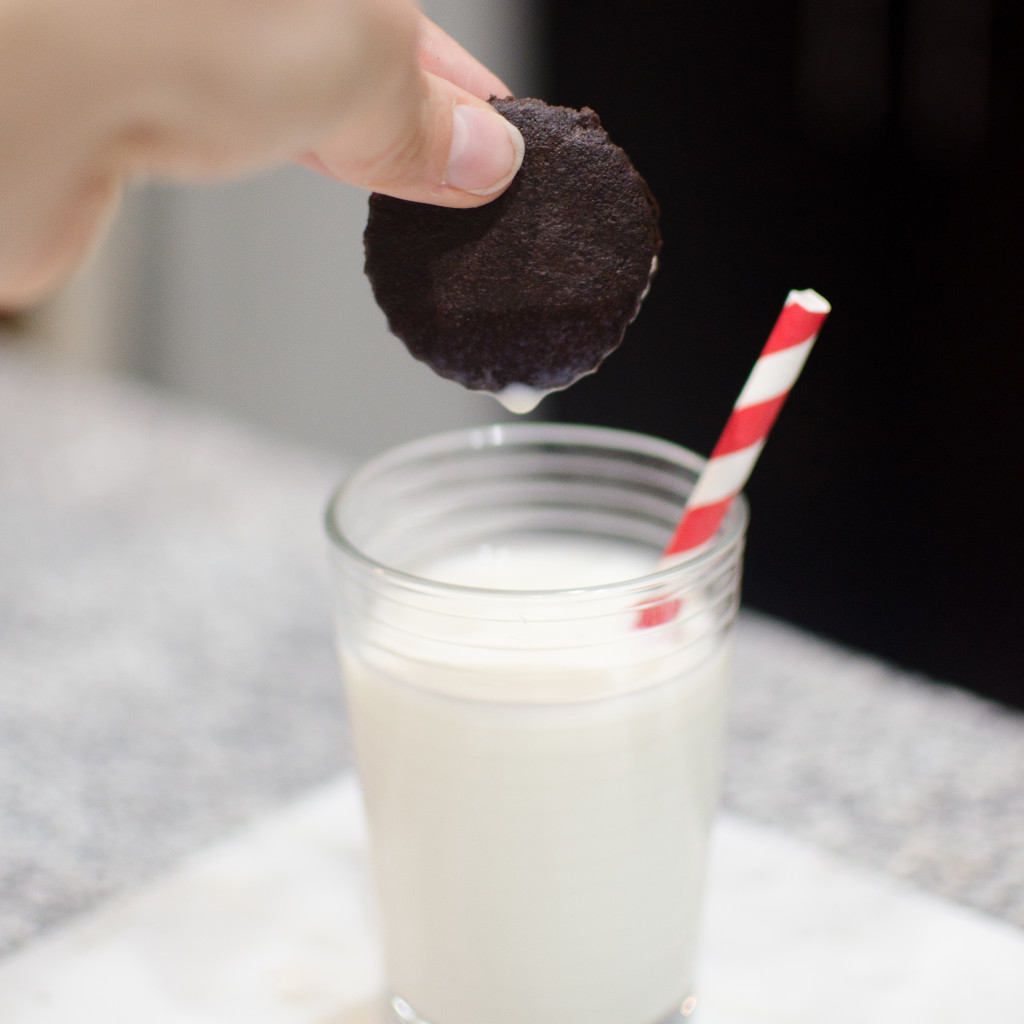 After tweaking my recipe I finally had it right.  These aren't exactly like Oreos… they are, imho, what Oreo aspires to be.  Like each morning when Oreo meditates and sets its intentions for the day this is what they are thinking of.  These are what Oreo will be when it reaches Nirvana.  They have a deep chocolaty flavor from the cocoa powder and a perfect crunch without creating too many crumbs.  They dip into milk without completely falling apart.  And oh, did I mention, how chocolaty they are?!? ???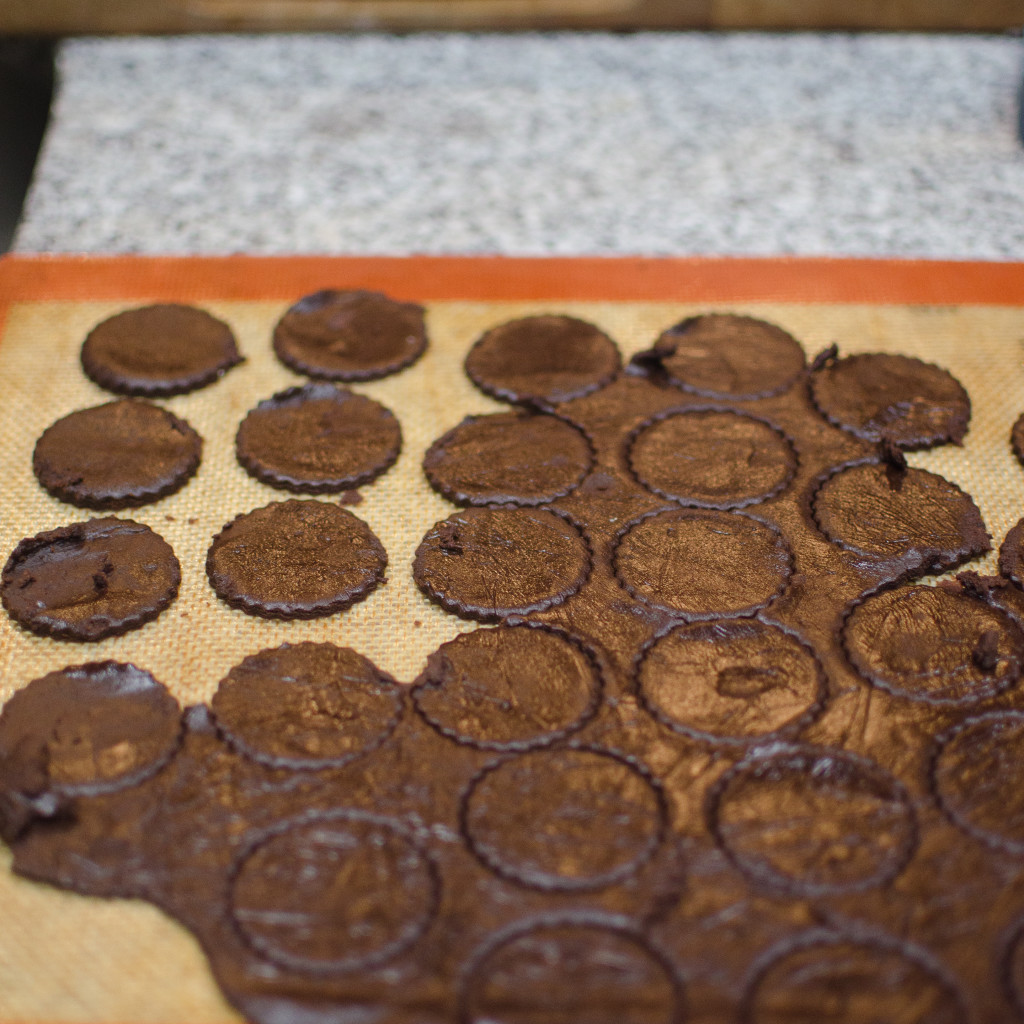 The cookies took a few tries to get rolled out.  After trying about everything I could think of (including freezing them inside a paper towel tube and slicing them… btw… had to unwrap a whole thing of paper towel… forgot to clean it up… husband found it in the morning very confused #foodbloggerproblems!), anyway, after trying just about everything I finally found the perfect way to cut these cookies and keep the shape… roll them out directly onto the silpat
 (or parchment paper) with wax paper (or plastic wrap) between the dough and the rolling pin.  Cut them on the silpat (as long as you're not using sharp cutters your mat will be fine), then roll up the dough around the cutouts.  Voila!  Why didn't I think of this before?!? Live and learn ?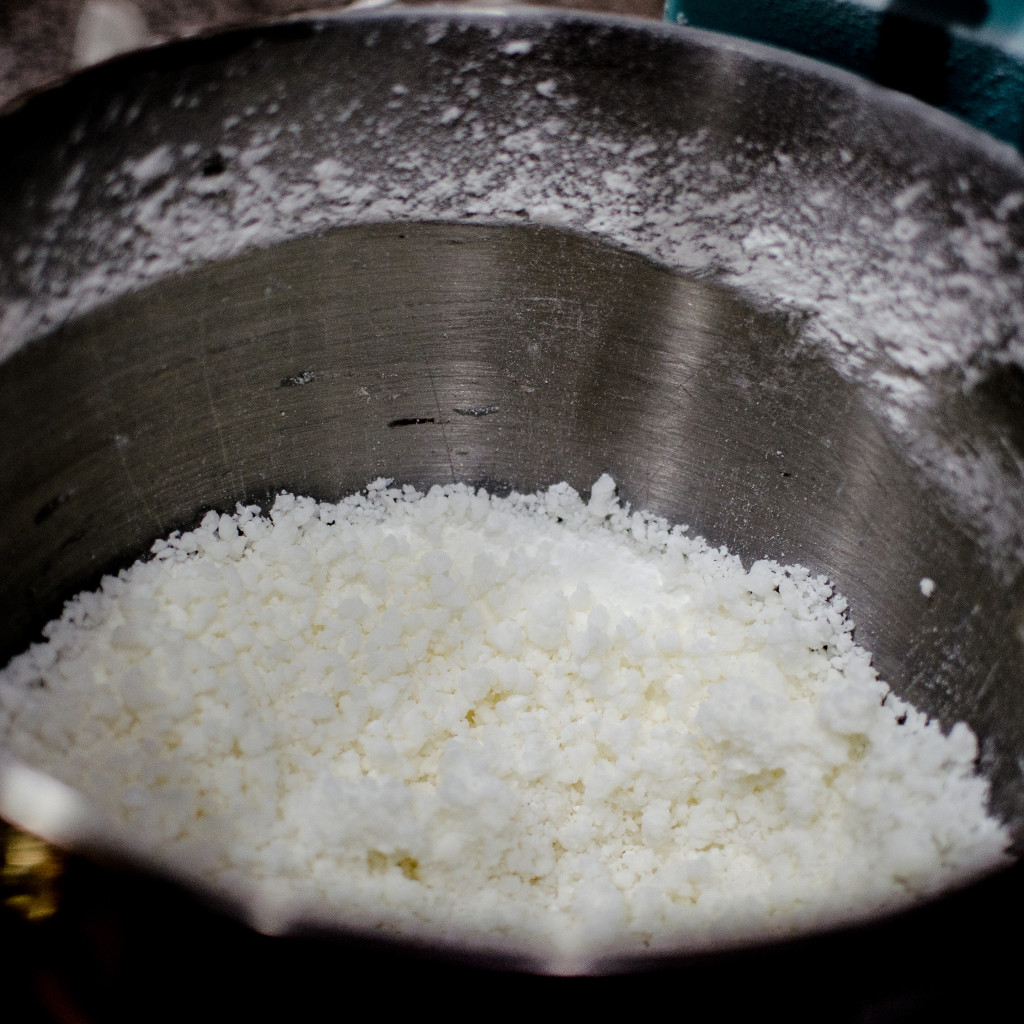 I put this picture here to help with the icing.  When you're making the icing you're going to think to yourself "self, Liz is crazy, this isn't working".  But it is working!  You see these little dippin' dots sized balls?  That means your icing is ready to be "kneaded" together!  Since Oreo icing is so stiff you're not going to be spreading it and stirring it.  Instead you'll knead it until it comes together then roll it out and cut out the icing to place on the cookies.
Homemade Oreo Cookie Recipe
Ingredients
yields about 30-40 sandwich cookies
Cookies
1 1/2 cups all purpose flour
1/2 cup + 2 T.dutch processed cocoa powder

1/4 t. salt
3/4 cup vegetable shortening
1 1/2 cup powdered sugar
1 egg, lightly beaten
1/2 t. vanilla extract
2 T. corn syrup
Icing
3 cups powdered sugar
1/4 t. vanilla
1/3 cup vegetable shortening
2 T. corn syrup
Directions
Note – you're going to make the dough and then refrigerate it for at least 2 hours before rolling it out.
Place the shortening and powdered sugar in a mixing bowl and mix until light and fluffy.  Add in the egg, corn syrup, and vanilla and mix to combine.
Slowly add the flour, cocoa powder, and salt and continue mixing until everything is combined.  Wrap the dough in plastic wrap and place in the refridgerator for at least 2 hours or overnight.
Preheat the oven to 350 degrees.  Place a silpat
 or piece of parchment paper on the counter.  Place the dough on the paper and place a piece of wax or parchment paper on top of the dough.  Roll out to 1/8 inch thickness.  Using a round cookie cutter cut out the cookies.  They can be close together as the cookies neither rise nor spread.
Bake for 12 minutes.  Allow cookies to cool completely.
Place all the ingredients for the icing in the mixing bowl of a electric mixer with the paddle attachment.  Mix on low until small balls form.  Using your hands combine the icing by kneading the mixture for 30 seconds.
Roll out the icing and using the same cookie cutter cut out rounds of the icing.  Place each one on a cookie use another cookie to create a sandwich.