Do you have a dessert you love.  I mean L-O-V-E, love.  I mean like maybe this dessert is your soulmate?  Yea, we all know the feeling when you find the perfect dessert.  The dessert you crave and no substitution will do.  The dessert that you ask for each birthday and secretly try to get others to ask for on theirs ?.  For me that dessert is actually a chocolate cake… but for my friend Denise… that dessert is cheesecake.  And it's not just any old cheesecake.  It's a dense, creamy, luxurious cheesecake.  Neither overly tangy or overly sweet with just enough crust.  So for her birthday this year I made her a cheesecake.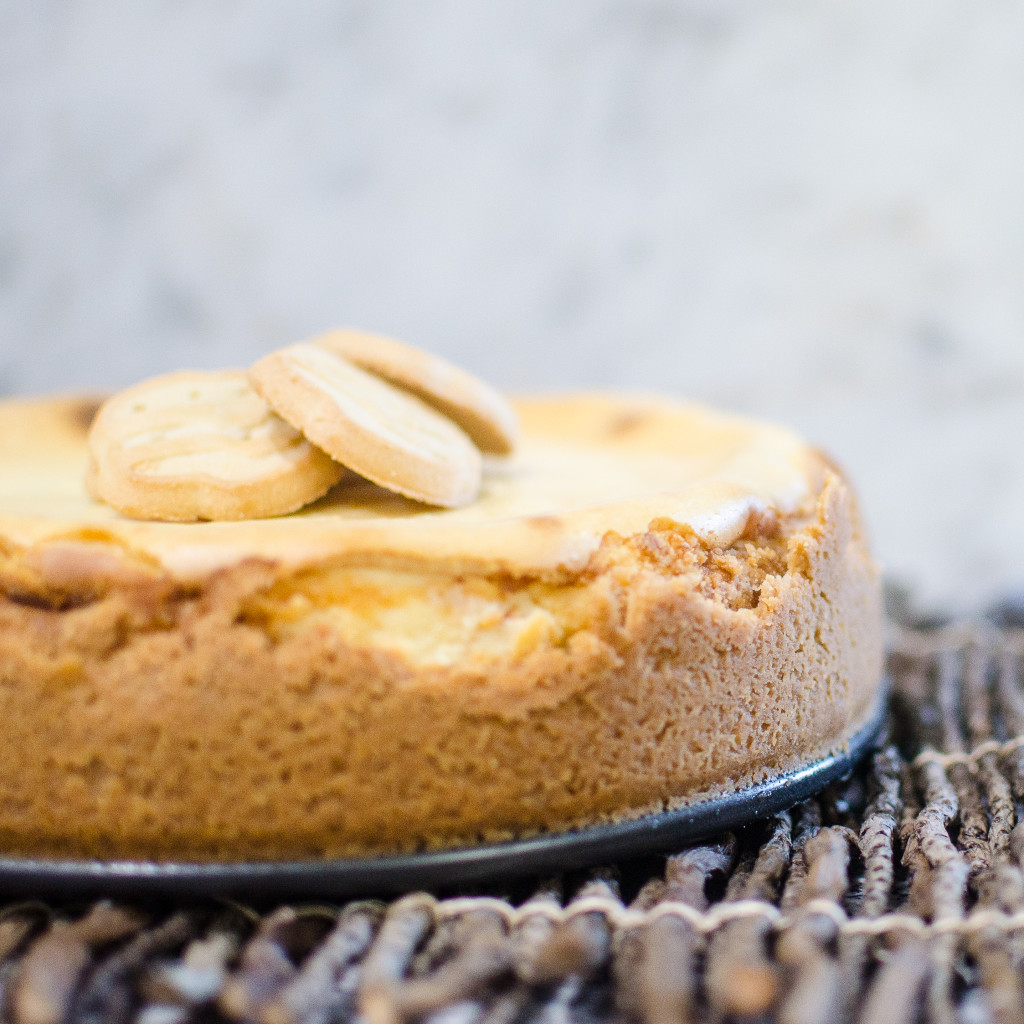 I actually had to give a call to good old mom before I made this one.  I wanted to make sure and get it just right.  And Denise was looking for a dense and creamy cheesecake… not fluffy, not cakey, not too tangy.  It had to be just right.  This seemed like a job for my mom, who makes some of the world's finest cheesecake (::brags::).  My mom offered up a recipe she has been making for years with… drumroll… a secret ingredient!  Who doesn't love a secret ingredient?!? I knew this was the right cheesecake for Denise! ??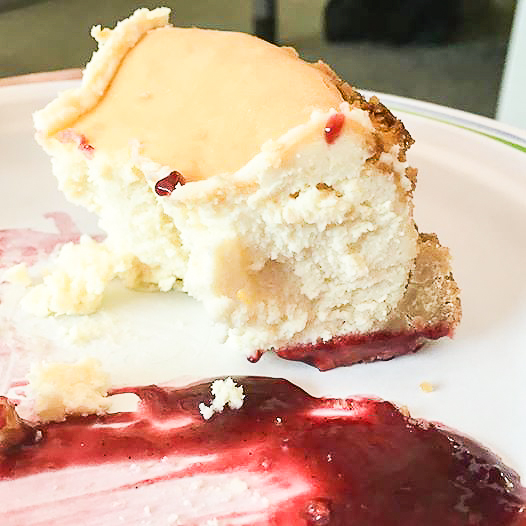 So here is that cheesecake in all it's glory.  Oh and did I mention… it had a Girl Scout Cookie crust!  That's right, instead of boring old graham crackers like some lame regular cheesecake this baby had a Trefoil cookie crust!  As if this thing wasn't good enough already the shortbread crust really sealed the deal.  Since the cheesecake is just plain I also made a quick raspberry coulis to serve on the side which was the perfect compliment to the cheesecake.  Seriously, I need more adjectives to describe the texture of this cheesecake.  You have to make it.  Like go, now, to your kitchen, and make this freaking cheesecake.  Just be sure to have some people to share it with… it is too yummy to think you're going to let it sit in your kitchen uneaten…
Trefoil Cheesecake Recipe
yields 1 cheesecake
Preheat the oven to 325 degrees F.  Place 12 oz of Trefoil cookies (3 sleeves) in a food processor
 and process until the cookies are a fine powder.  Stream in 1 stick melted butter until the mixture starts to clump together.  Press the mixture into a lightly greased springform pan
, set that pan on a rimmed baking sheet (this keeps drips from making a mess in the oven), and bake in the 325 degree oven for 15 minutes.
In a mixing bowl combine 4 – 8 oz. packages of softened cream cheese with 1/2 cup of sugar and 1 t. vanilla extract and beat with an electric mixer until smooth.  Add 4 eggs, one at a time until blended (pro-tip: leave the eggs on the counter for at least 30 minutes to get to room temperature for a smoother texture).  Finally, pour in 12 oz melted and cooled white chocolate (the secret ingredient! shhh!) and mix until combined.
Pour the batter into the slightly cooled crust and bake in a 325 degree F oven for 60-65 minutes (keeping the springform pan on the baking sheet, again to avoid drips).  Remove the pan from the oven and set aside to cool.  Gently loosen edges from pan after it has cooled for 30-60 min but don't release pan until completely cooled. Place the cheesecake in the refrigerator, still in the pan to cool for at least 4 hours.  Take off edges of springform pan and take off the bottom of the pan to put on platter only when it's been refrigerated at least 4 hours. Don't mess with a warm cheesecake!
Raspberry Coulis Topping
yields 8 oz.
In a medium sauce pan over medium heat combine:
12 oz fresh or frozen whole raspberries,
1/4 cup light corn syrup,
1/2 cup raspberry jam,
1/4 t. salt,
1 t. vanilla extract, and the zest from 1 orange. Bring to a boil over medium heat and allow to simmer for 5 minutes.  Remove from heat and pour into a fine mesh strainer
 and strain out the sauce, leaving behind the seeds.  You will probably have to stir the sauce in the strainer to get it all out.  Cool the sauce and serve with the cheesecake.  Save the seeds for smoothies or just discard them.
Please note this post contains affiliate links to products that I use and love.