Hi Everyone.  I'm Liz.  I'll be your food blogger today.
 I'm the author, photographer, baker, stylist, programmer, and maid here at cooking by moonlight.  During the day I'm a Data Analyst making spreadsheets and presentations but each night when I come home I go straight for the kitchen to pursue my true passion: baking, eating, cooking, and general food-related tomfoolery.  When I'm not baking or writing you can find me hiking with my dog Artie or hanging out with my boyfriend fiancé husband Nick.  We live in San Antonio, TX and love the sunshine and all the great food down here.
I started this blog back in 2011 as a way to document my time in Pastry School.  Since then it has become my favorite hobby and covers soooo much more than just pastries.  Now the blog focuses on teaching others how to cook, bake, and feel comfortable in their very own kitchens.  For more info on me check out my welcome post.
The History
As far back as I can remember I was happiest with a whisk and an apron in the kitchen. My day job pays the bills, most importantly the grocery bills. But when I arrive home each night you can find me enveloped in a cloud of flour in my kitchen with three burners running and a spoon, a whisk, and an oven mitt in hand.
I have always loved my time spent cooking and was an excellent recipe follower, leaning on my mom for advice when things didn't go as planned. But I wanted to learn more. I wanted to learn to cook. I wanted to understand why recipes work and how to create my own.
Pastry school helped me get the culinary chops I needed to feel confident developing, testing, and editing recipes.  I embarked on this journey to share fun and exciting recipes with readers.  Soon after I began I noticed the recipes that people loved most were not fantastically fancy recipes inspired by Michelin star chefs.   The recipes people loved and requested were simple, practical recipes to feed themselves and their loved ones.  Most people are not blessed with the time to spend hours preparing dinner each night and often don't feel empowered to create overly complicated recipes requiring difficult to acquire ingredients.  This doesn't mean, however, that they must settle for mediocre dinner.  There are fantastic meals that can be created in reasonable time frames with everyday ingredients.  These are the recipes I strive to create and publish.
The Recipes
The recipes on this site are from a myriad of sources. Some are adaptations of the delicious things baked in school. Some are (not-so) secret family recipes from my family or Nick's. Some are from friends and some are from readers. Sources are cited, when appropriate. Regardless of where and who it came from I personally made these, took the pictures, and most importantly devoured the results!
Are there recipes you have been looking for, hoping for, dreaming about?  Something you had once in a restaurant or at a friend's house growing up?  Ingredients you are scared to work with or tools you can't figure out how to use?  If any of these are true shoot me an email, leave me a comment, or tweet me what you're looking for and I'll do my best to create it just for you.
The Help
This blog wouldn't be possible with out the help of my roommate, husband, dishwasher, jar-opener, and smoke-alarm disabler – Nick. He believes me to be a bit of a whirling dervish in the kitchen. Which is mostly due to some kitchen mishaps in the past and my uncanny ability to get flour in places it does not belong (ceiling, purse, cabinets, balcony, etc). Despite my somewhat haphazard kitchen antics he is always there to help me clean up the messes and munch, crunch, and brunch on the delicious results.
And last but not least we can't forget Artie – who helps to make sure no crumb stays on the kitchen floor for too long.  Here's a puppy pic because nothing is better than a puppy!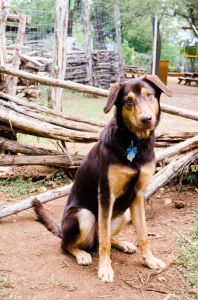 Keep In Touch
Pinterest | Twitter | Email | Facebook | RSS Feed