After two years running on blogger I decided it was time to upgrade to WordPress.  I made the decision for a variety of reasons but it all basically boiled down to control.  I wanted to build more pages (Blogger only allows 20 static pages) as well as to have more control over the template, the style, and the ads!  After doing a lot of research I decided to go with bluehost and a Genesis theme (specifically this blog is powered with the Daily Dish theme).  I'm really thankful for both of these choices because they made the process as easy on me as possible.
Transferring your Blogger blog to WordPress is a stressful process.  In my case I had over two years of content and the links (including pinterest and food gawker).  The transfer was a lot of work so I wanted to document the process for others that attempt it and let them know that it can be done.  Even if, like me, you don't want to write any code!
note: the examples below show bluehost as the hosting service.  you can use any service you like and the steps are similar.  i wrote this with bluehost because that is the host i personally use.  
How to Transfer a Blogger Blog to WordPress
This is a post detailing my transition from Blogger to WordPress.  I'm not a web developer and had a lot of help from IT professionals at bluehost and enom.  If you feel uncertain about the process contact your host or, better yet, hire someone to do it for you.  For instance bluehost offers a transfer package for $99.
this post contains affiliate links for some services.  all the affiliate links are for companies i personally use and would highly recommend.
Step 1: Choose a Host and a Domain Name
If you already have a custom domain name with your blogger account that's okay.  Purchase the hosting package, noting when you buy it that you already have your own domain name.  If you go with bluehost then I would recommend the starter account.  It's cheap and comes with great support.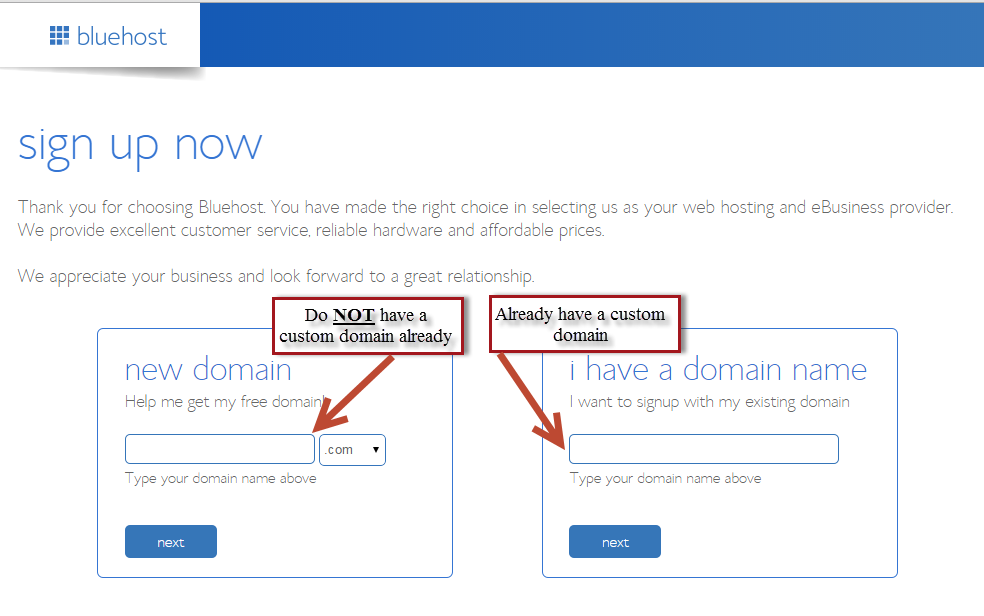 Step 2: Install WordPress
After creating your hosting account you will install WordPress.  If you're working on a temporary URL you will install WordPress on your Temporary  URL and get the site ready then later move everything.  If you are feeling nervous at this point most hosts provide Quick Start sessions for a small fee to help you get set-up.  This was a life saver for me!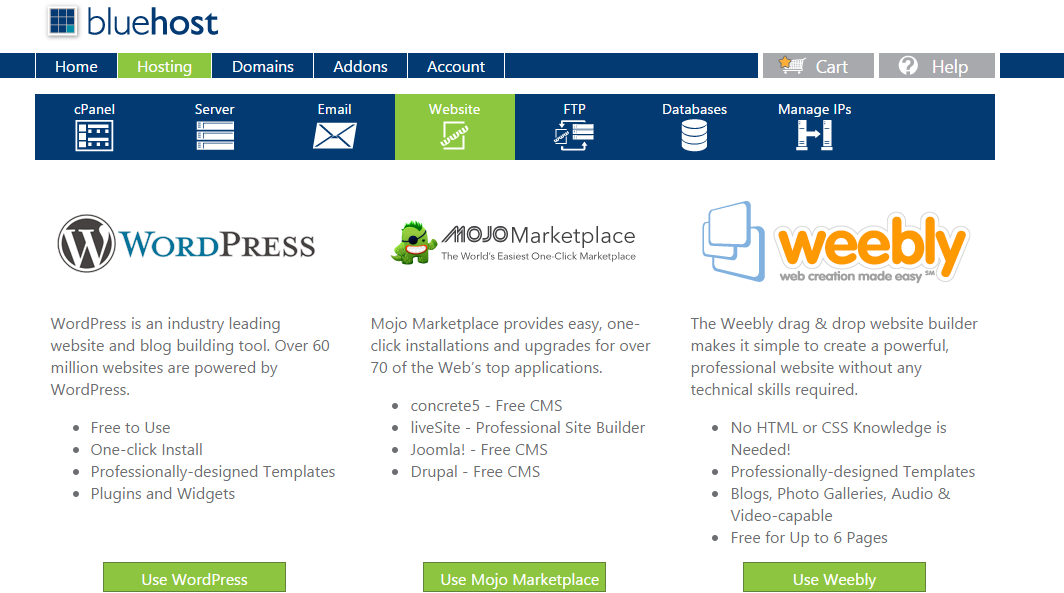 Step 3: Import All Your Blogger Content
To do this you'll need to add a Plugin.  Plugins are great – they basically add snippets of code to your site for you so you don't have to!  (learn more about Plugins here).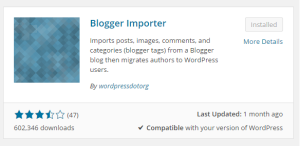 The Plugin you need to import your blog is Blogger Importer.  Search for it in the Plugins section, add it, and activate it.  From there follow the steps provided.  It will import all your posts, pages, and images.  (note: you'll need your blogger log-in handy to do this).  After everything is imported check to make sure all your stuff is there (for some reasons my pages didn't copy and I had to add them manually).
Step 4: Pick and Activate a Theme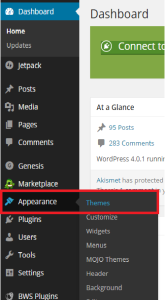 After you are into your new shiny WordPress account you will want to install a Theme.  Themes control all the pretty stuff and all the functionality of your website and better yet keep you from having to code anything!  There are free themes you can choose from in the Marketplace or you can purchase one from somewhere like Studio Press (this site runs on the Genesis framework).  I choose this option because of the great reviews and the ease of use.
Free Theme: To install a free Theme go to Appearance on the menu on the left then select Themes.  Look through the free themes and choose the one that best fits your needs.  Then click "Activate".  Now you have a theme!
Genesis Theme: If you choose one of the themes using the Genesis framework you will first go to their webpage and purchase the framework as well as the theme.  You'll need both.  From there you'll download the files and then upload them instead of choose a theme.  You will see a "Add New" button at the top.  Click it and follow the instructions to add the new file.
Go ahead and set the site up the way you want.  Enjoy the new freedom and have fun creating your site's new home!  After you have everything the way you like you're ready to bring over all your content from before!
Step 5: Update Permalinks
You want to keep all your links the same so that every link back and Pinterest pin goes to the right place.  To do this you want the links that WordPress creates to look just like the ones Blogger created.  To do that go into your WordPress Dashboard and go to Settings then choose Permalinks.  In there choose custom and set it up as: /%year%/%monthnum%/%postname%.html/

Step 6: Go Live!
Take a deep breaths!  It's time to go live!  To do this it makes a difference if you had a custom domain or not.  If your website looks like this: www.cookingbymoonlight.com then you have a custom domain.  If your website looks like this: www.cookingbymoonlight.blogspot.com then you don't.
Custom Domain: You'll need to contact the company that you register your domain name with and have the Name Servers changed.  For me the hardest part was finding the company that had my domain.  To find this information I had to log into my Google Apps account.  If you're doing this the login is most likely bloggeradmin@<example>.com (where example is your domain name).
After logging in you should be in your admin console.  From there select the icon for "Domains" then the "Advanced Domain Settings" link.  In there you'll find the details about the company (most likely it's enom or GoDaddy) that you can contact and the log information and password. At this point I called both bluehost and enom to help me make sure I got everything just right.  I would recommend you do the same.  It didn't cost me anything and saved me a lot of possible problems.  Be sure to ask about the email accounts if you have any because this procedure is slightly more work but can be done to keep your @example.com email address if need be.
Now that the name servers are changed you can log into your WordPress account and assign the domain to this account.  To do that go to your Dashboard then into Settings and General.

After you do this and save your site will go down.  DON'T PANIC.  Okay, panic a little because we all do.  It isn't broken though.  Clear your cache and now go to your site www.example.com/wp-admin and log in and you're back!  If you clear your cache and still don't get anything back it could be that your ISP needs to clear their cache.  For me this took a scary 24 hours.  I called bluehost and had them check to see that everything was okay.  The nice man on the phone told me on his end he could see the new site.  He also said I could use an internet connection that hadn't visited that site in a while and see if it was up.  I used my phone and it was there!  Phew!!
Blogspot Domain: I didn't have this type of site and thus I don't want to guide you through it as I don't have personal knowledge.  However, there are plenty of people that have done this.  Here is a site that walks you through the process in easy to understand steps: https://rtcamp.com/blogger-to-wordpress/tutorials/blogger-to-wordpress-redirection-plugin/
Step 7: Audit!
Now it's time to give everything one final check.  This includes testing your links (hint: if you have any post titles with "a" in the title, like How to Make a Cake check those – Blogger removes the a in the URL but WordPress does not.  To fix this go to the post in WordPress and edit the post.  The URL is at the top and you can manually edit to to match the old link there).
Then check your labels/categories and make sure everything looks good.
If you use google analytics you need to add your tracking ID to your page.  Here is a helpful site to walk you through how to do that: http://www.wpbeginner.com/beginners-guide/how-to-install-google-analytics-in-wordpress/
Finally check the formatting of your posts.  This is what took the longest for me because everything came over a little funny.
Step 8: Start Blogging Again
After the set-up is complete the new site is ready to go!  Remember if you run into trouble the people at your hosting company should be able to help you out.  Don't do anything you feel uncertain about – always ask a professional for help!