Well it's just 10 days until Halloween… one of my favorite holidays so I wanted to make something delicious and spooky… but I also wanted to keep my promise of posting more quick and easy meals to help out my favorite college student.  So this one combines them both into a fast, easy, delicious, and spooky meal.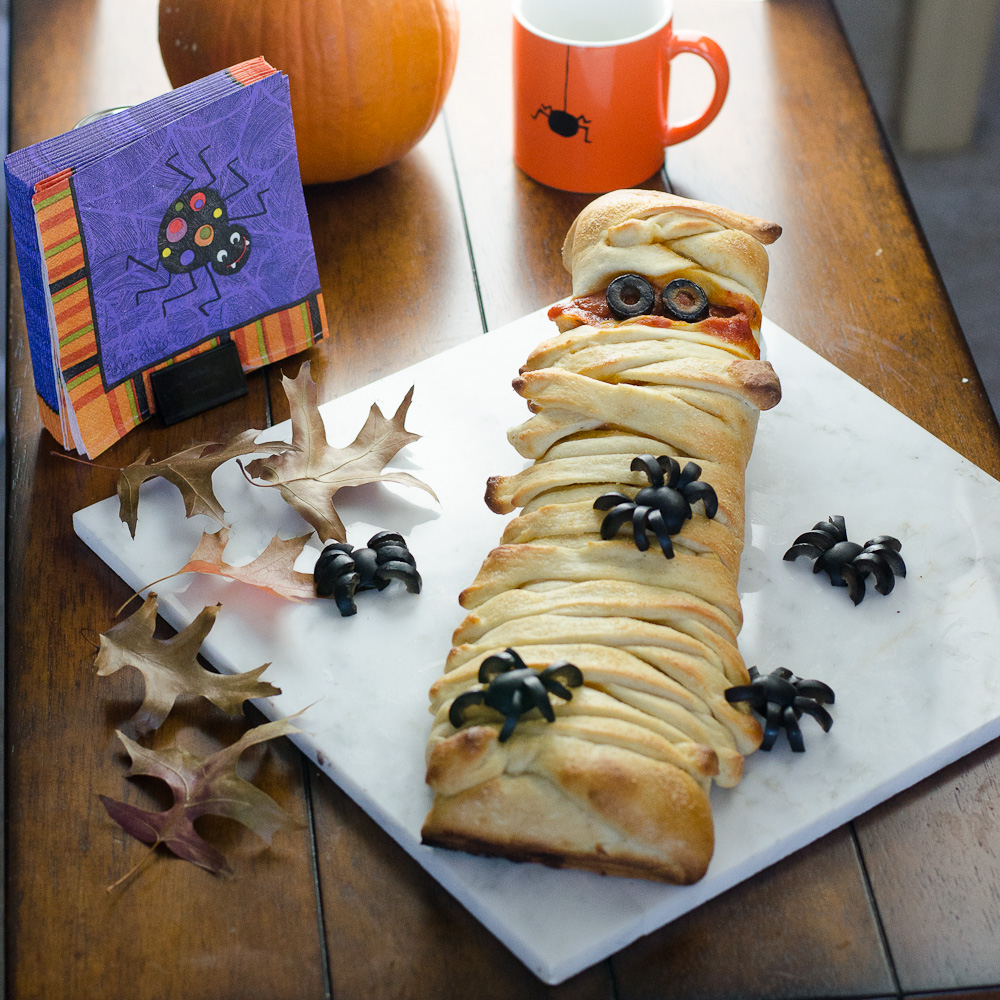 I actually have been making this for quite a few years now.  I first made if when I moved out to DC and Nick and I celebrated Halloween together.  After seeing all the mummy hot dog recipes online I wanted to try something like it.  I don't particularly love pigs in a blanket so I thought I would substitute something I don't love (hot dogs) for something I do love (pizza).  And it was an instant hit in our house.  I actually make it more often than just Halloween because it's just too delicious to have only once a year.
>
The black olive spiders are one of my favorite touches.  Though in the spirit of full-disclosure to my readers I have to call out… they are not the easiest little things to create.  Getting the pieces ready is super simple but getting the legs to stick can be tricky.  My more astute may notice that one of my spiders only has 7 legs.  That is because in a fit of rage when it fell off for the 174th time I ate the leg to show it who was boss.  Nick was properly threaten to stay away from the table while I photographed because if he bumped it and made the legs fall off the spiders I vary well may eat one of his legs in a fit a rage!!  Though I doubt the threat was necessary because the grumbled swear words and random shouts kept him scared enough to stay away as it was!
The best trick I found to getting them to stay was the cut the legs thick and cut a small corner off of each leg so that they balanced right up against the body instead of just at a little point on the body.  Though maybe super glue would have been easier…
Halloween Calzone Recipe
yields 1 mummy (serves 3-4 people)
1 package refrigerated pizza dough (like Pillsbury pizza curst)
1/2 cup pizza sauce
1/2 cup shredded mozzarella cheese
1/2 cup of your favorite pizza toppings (I used pepperoni, roasted tomatoes, and mushrooms)
1/4 t. garlic powder
1 T. olive oil
8 olives for spiders
1) Preheat oven to 400 degrees.
2) Roll out pizza dough on a counter into a 9×13 rectangle.  Fold the dough into thirds like a envelope.  With a pair of kitchen shears cut the right third and left third into strips that are still attached to the dough.
3) In the middle third place the sauce, toppings, and cheese.  Fold the strips up over the middle one over the other to create a braiding effect.
4) Leave space for eyes and place two black olive slices in the cut out for eyes.  Brush the finished product with the olive oil and sprinkle on the garlic powder.
5) Bake for 12-15 minutes or until golden brown.
For the spiders.  Cut 2 of the olives in half length wise to for the bodies.  Using the remaining olives cut them in half lengthwise and then into four strips for the legs.
Looking for some more Halloween fun? Try the Spooky Pudding 🙂