Well welcome to the new year.  After a great holiday season with lots of food, drinks, family, and friends I have so much to be thankful for in 2012 and so much to look forward to in 2013.  One of my favorite parts of ringing in the new year is the new year's resolutions.  I actually look forward to these every year as a way to change course, break bad habits, start new habits, and refresh.  This year I decided to also make a new year's resolution for my blog… my goal is to post everyday in January.  In addition my goal is to amp up the veggies, salads, and main dishes since last year I was pretty heavy in the desserts realm.  To start the new year out right I made pan roasted chicken thighs.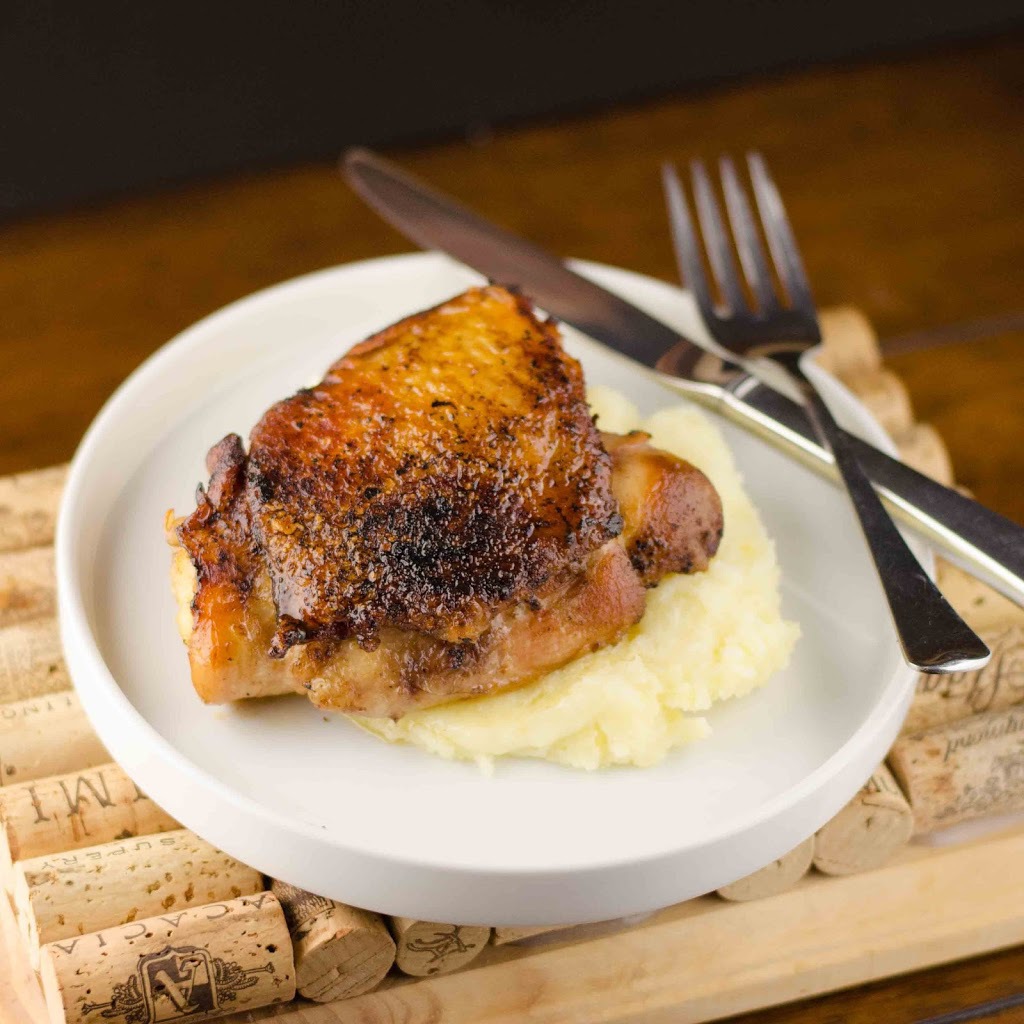 I love the flavor of just about anything that has been roasted.  As a Christmas present from Nick's grandparents I received a cast iron skillet (one of the few kitchen items missing from my collection) just like this one: Lodge Logic L10SK3 12-Inch Pre-Seasoned Skillet
. I wanted to break it in and couldn't think of any better recipe than pan roasted chicken thighs.  The skillet made all the difference in the world – these were so delicious.  The skin was perfectly crispy and flavorful and the inside was juicy and moist.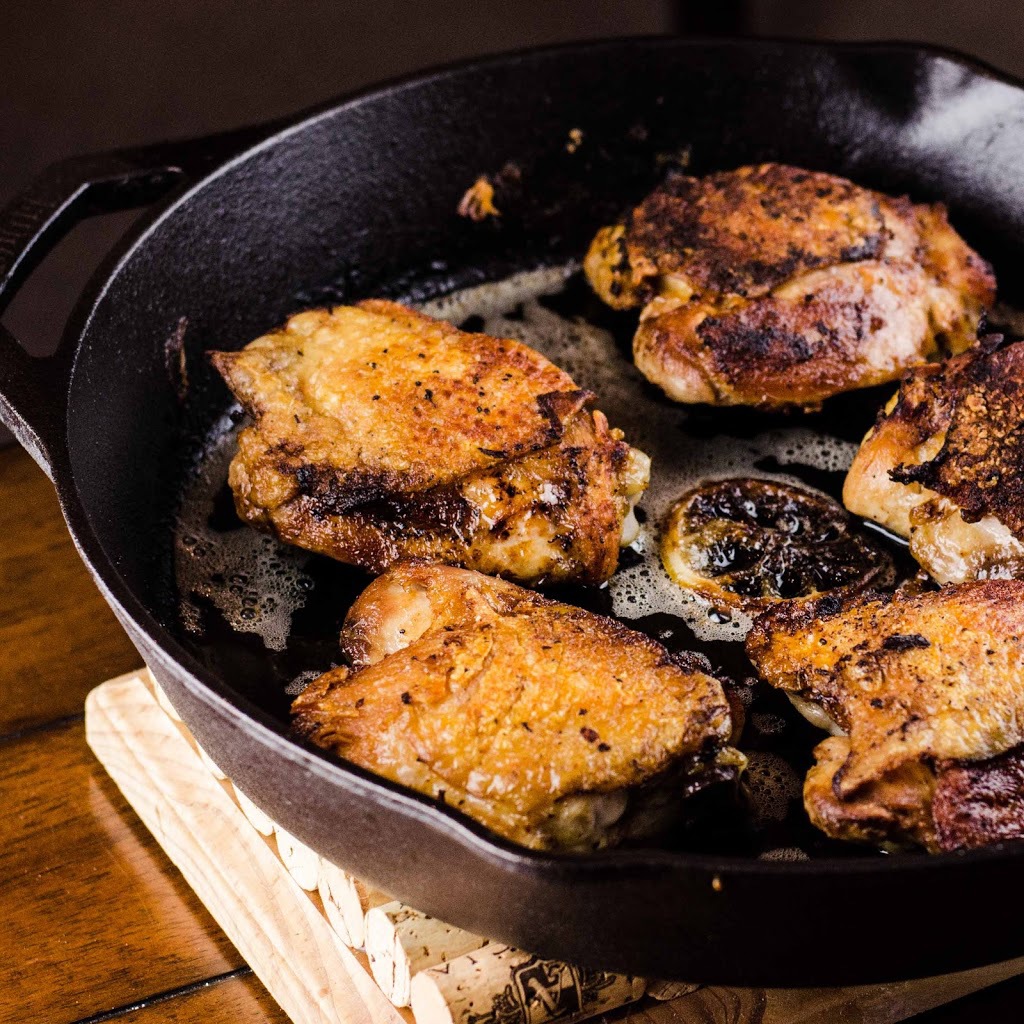 If you don't have your own cast iron skillet you can make this in any oven proof pan or sear them on the stove top and transfer the chicken to a roasting pan to finish baking in the oven.  Though speaking as someone that has made it that way before I would recommend purchasing your very own skillet… especially because now that I have this new fun toy I am sure I will be making plenty more recipes that use it and you will want to eat them all 🙂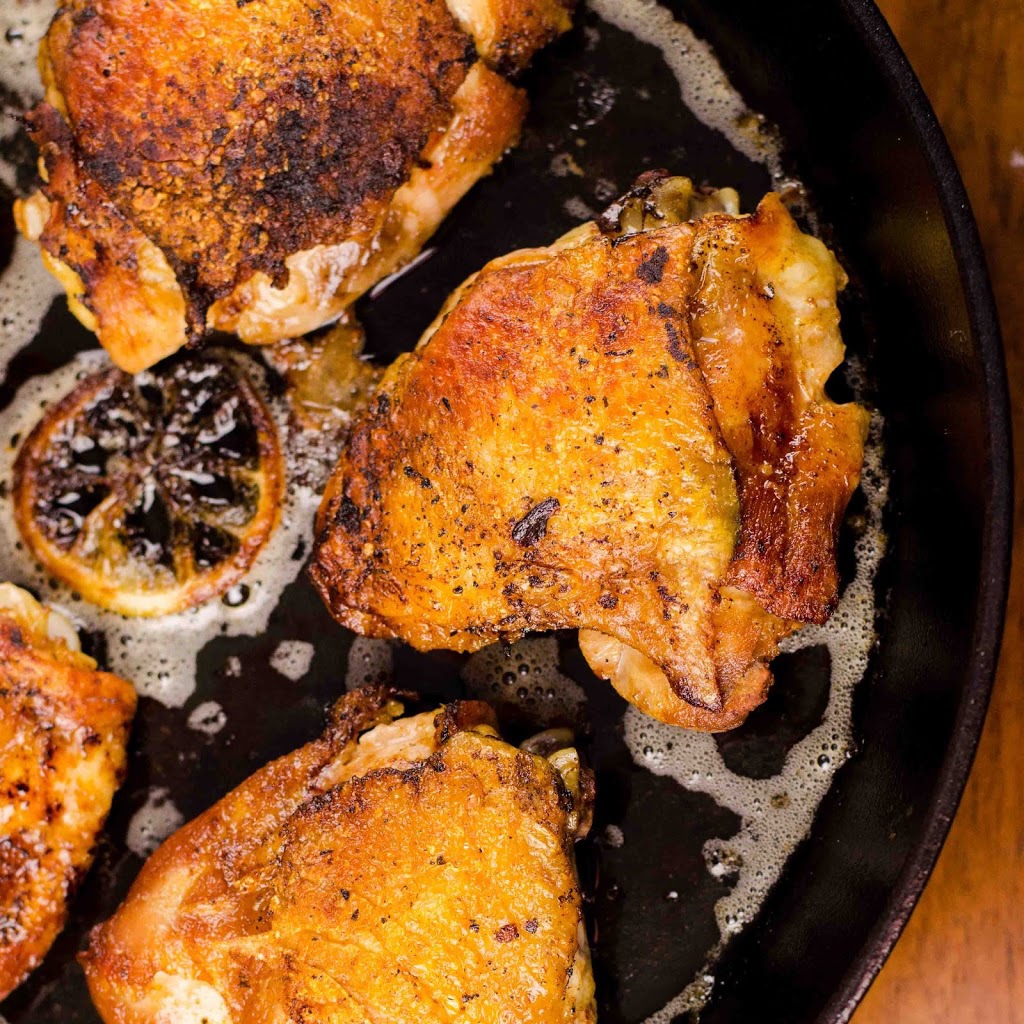 This recipe is super simple and takes only 3 ingredients.  For us, however, it turned out to be a team effort… our overly sensitive smoke detector seemed to be in a mood this fine new year's day and went off, no joke, 15 times.  Nick finally decided to camp out under the thing fanning a pillow for the entire last 12 minutes of cooking… What would I do without him?!  Hopefully he didn't mind all the work because these were so delicious I am certain we will want to make them again.  Though perhaps next time we will just set a fan up on a chair.
Pan Roasted Chicken Thighs Recipe
Ingredients
yields 4 – 6 servings
6 chicken thighs (bone in, skin on)
1 lemon, sliced into thick slices
1/2 T. canola or vegetable oil
Directions
1) Preheat oven to 475 degrees.
2) Season the chicken liberally with salt and pepper.
3) Heat the oil in a skillet or oven proof pan over medium high heat.  When the oil is very hot place the chicken thighs, skin side down.  The chicken should sizzle loudly when placed in the pan – if it doesn't then the oil isn't hot enough yet!
4) Sear the chicken for 2 minutes on medium high heat.  Reduce heat to medium and continue to cook, skin side down for 10-12 minutes or until the skin is a golden brown color all over and the fat has rendered.  If you have a large skillet be sure to check and make sure it's cooking evenly.
5) Places lemon slices in the pan with the chicken and transfer chicken to the oven (keep it skin side down) cook for 12 more minutes.
6) Flip the chicken over and cook an additional 5 minutes or until the chicken has cooked through (the internal temperature should be 165 and the juices when cut should be clear, not red).  Remove from oven, transfer to plate, and allow to sit for 5 minutes before serving.