Breakfast time! Isn't it just the best.  Well, no, actually.  Breakfast is always a rush for me.  Between getting up, getting ready, walking the dog, and getting to work on time there rarely seems to be time to make a good breakfast.  Usually I'll make a smoothie (if you're in need try this one: Green Piña Colada Smoothie) but lately I have been craving something a little heartier.  With no time, okay well not no time… I could get up earlier… but who wants that?!  Let me start over, without having to wake up earlier I still wanted breakfast that was warm and hearty.  In comes… muffin tin eggs.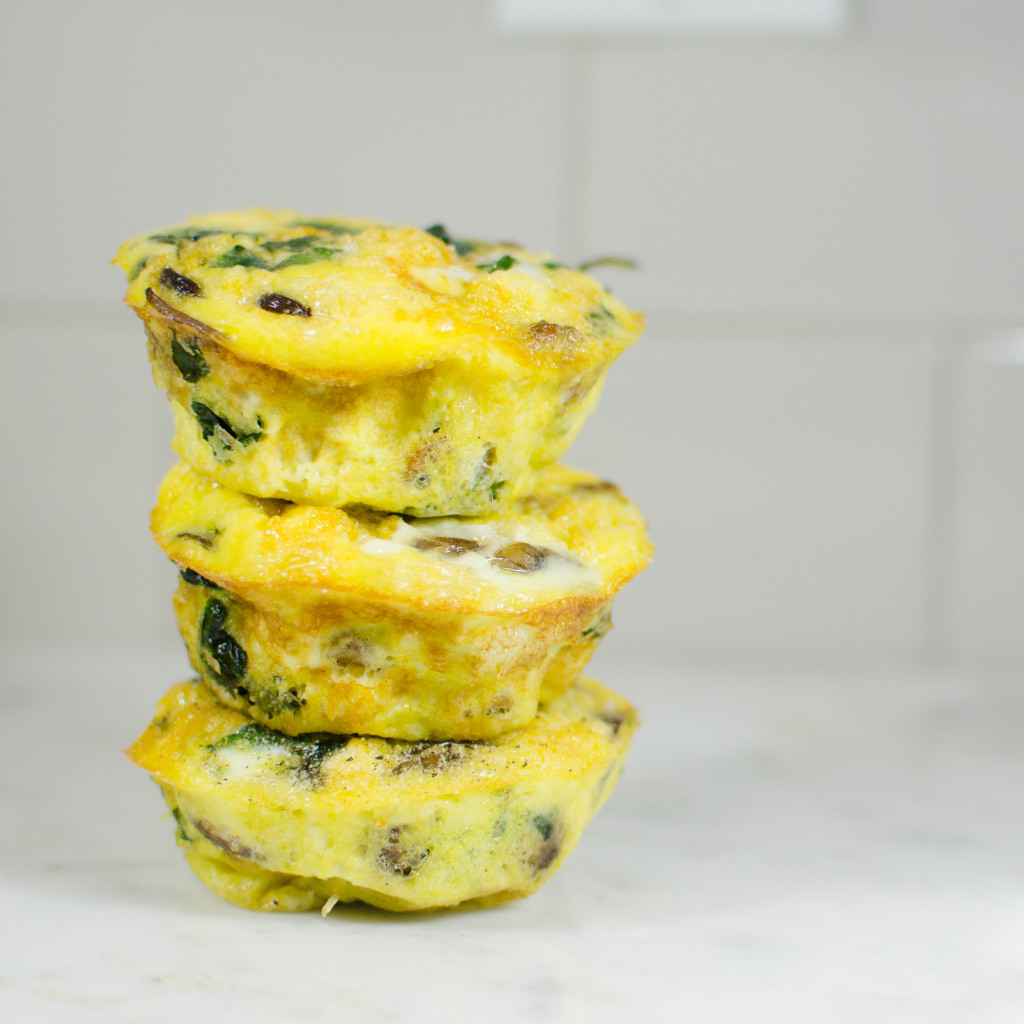 A friend recommended I try out muffin tin eggs which she has made before.  You can make them a couple of days ahead, store them in the fridge, and then quickly heat one up.  Ah-ha – I can have eggs for breakfast and not have to get up earlier.  I knew there was a solution.  As it turns out there are tons of recipes out there.  You can put just about anything you want in the eggs – think of it like a compact little omelet.  I used spinach, mushrooms, and turkey sausage in mine but I saw all sorts of combinations when I started doing some research.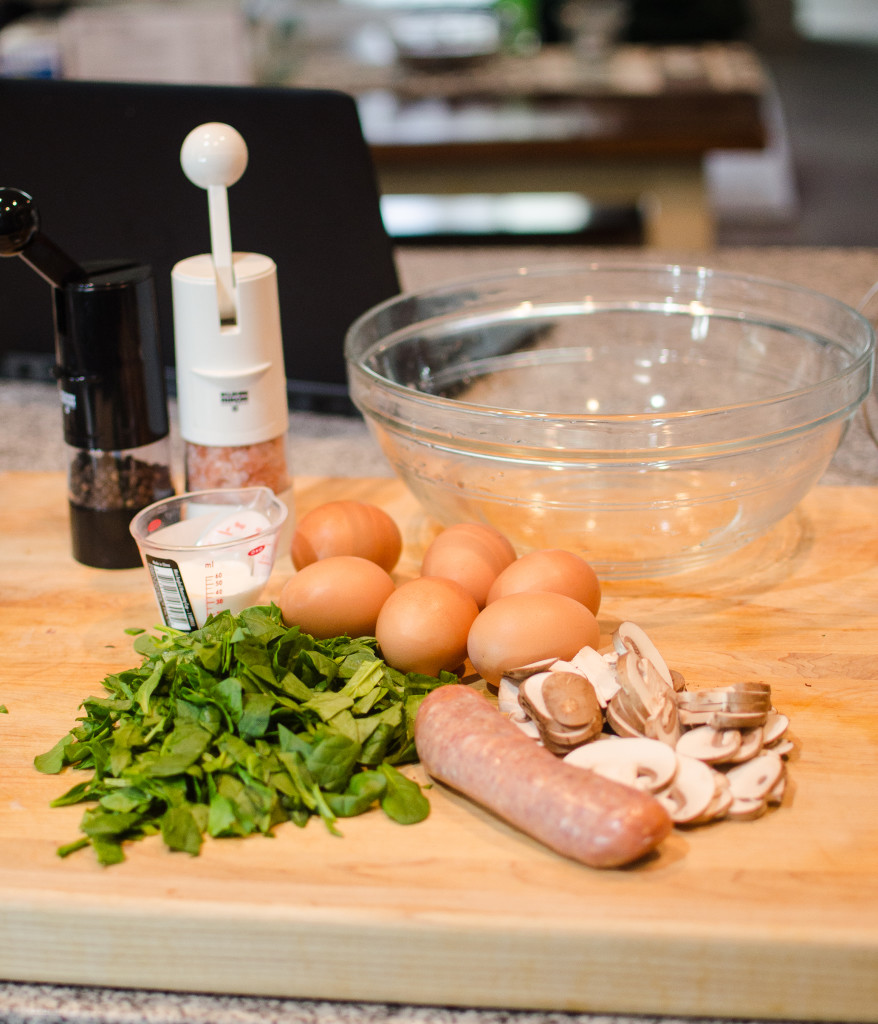 Speaking of research, and on an unegg-related noted.  Did you know all the things you can make in a muffin tin?!  How have I never run across more of these recipes before?  I really need to start Pinteresting more – there are so many possibilities.  Stay tuned because I am going to be dusting off this muffin tin a lot more to try some new things out like these au gratin potatoes: Cheesy Potato Grain Stacks or these Lasagna Cups.  Okay sidebar done, back to eggs!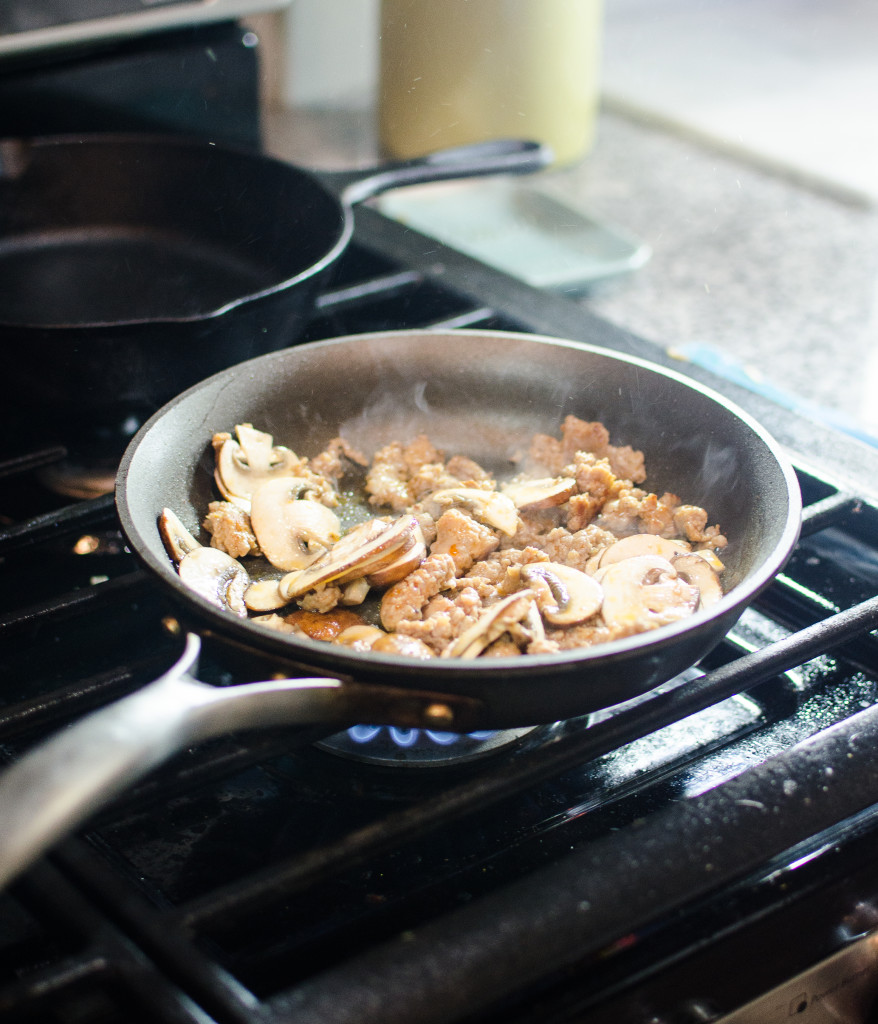 Okay seriously though, these egg cups are awesome!  I can't believe I haven't tried this out before.  They are super simple to make and reheat so easily.  Consider this officially added to my breakfast rotation.  I'm actually sad I made six of them.  I want to try new flavors and ingredients now that I'm all amped up on eggs… maybe Artie would like an egg cup to help me rid of them faster… after all he wanted patiently the whole time I worked on them.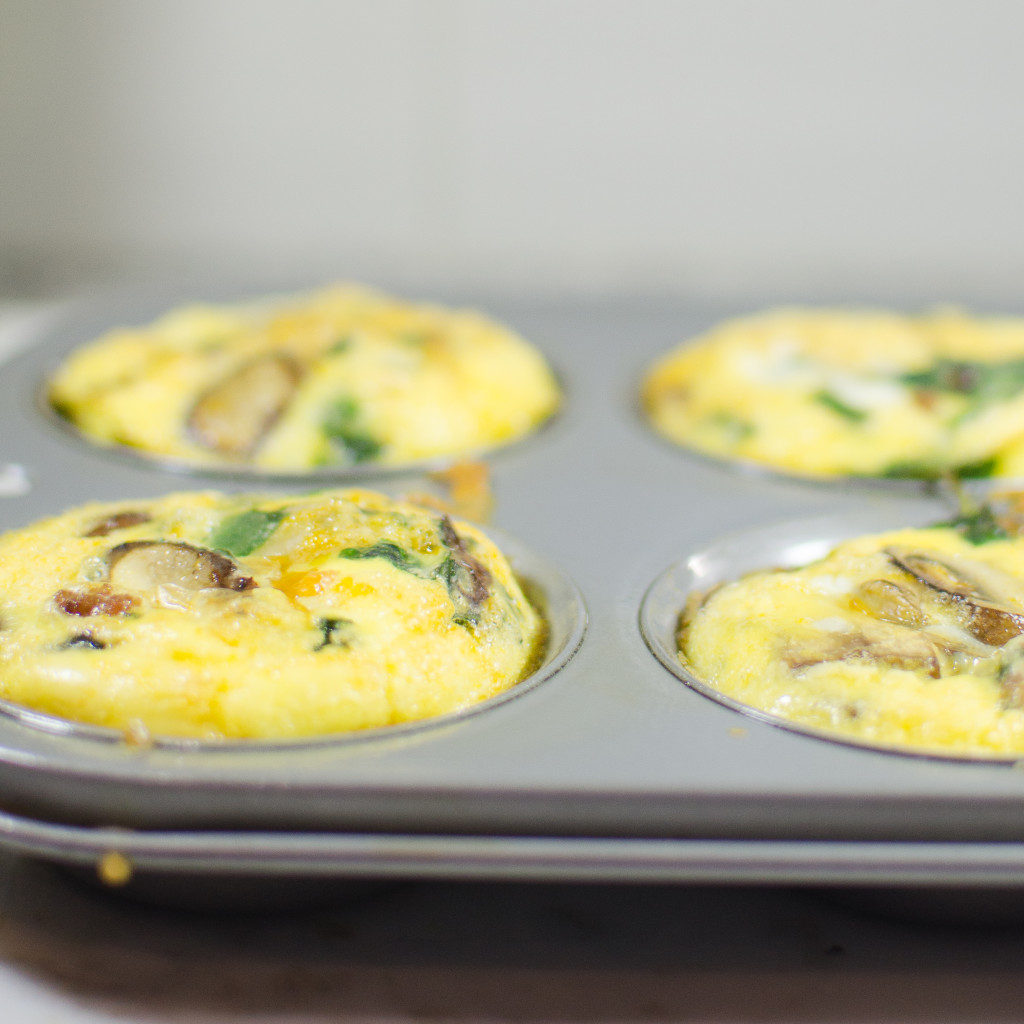 The recipe for these is super simple.  After sauteing all the add-ins you want until they are cooked through you grease a muffin tin, pour in the egg mixture, and bake! Simple ?  As these are eggs and not baked goods they won't rise much in the tin so you can pour the egg mixture up to the tippy-top without worrying about it bubbling over in the oven while it bakes.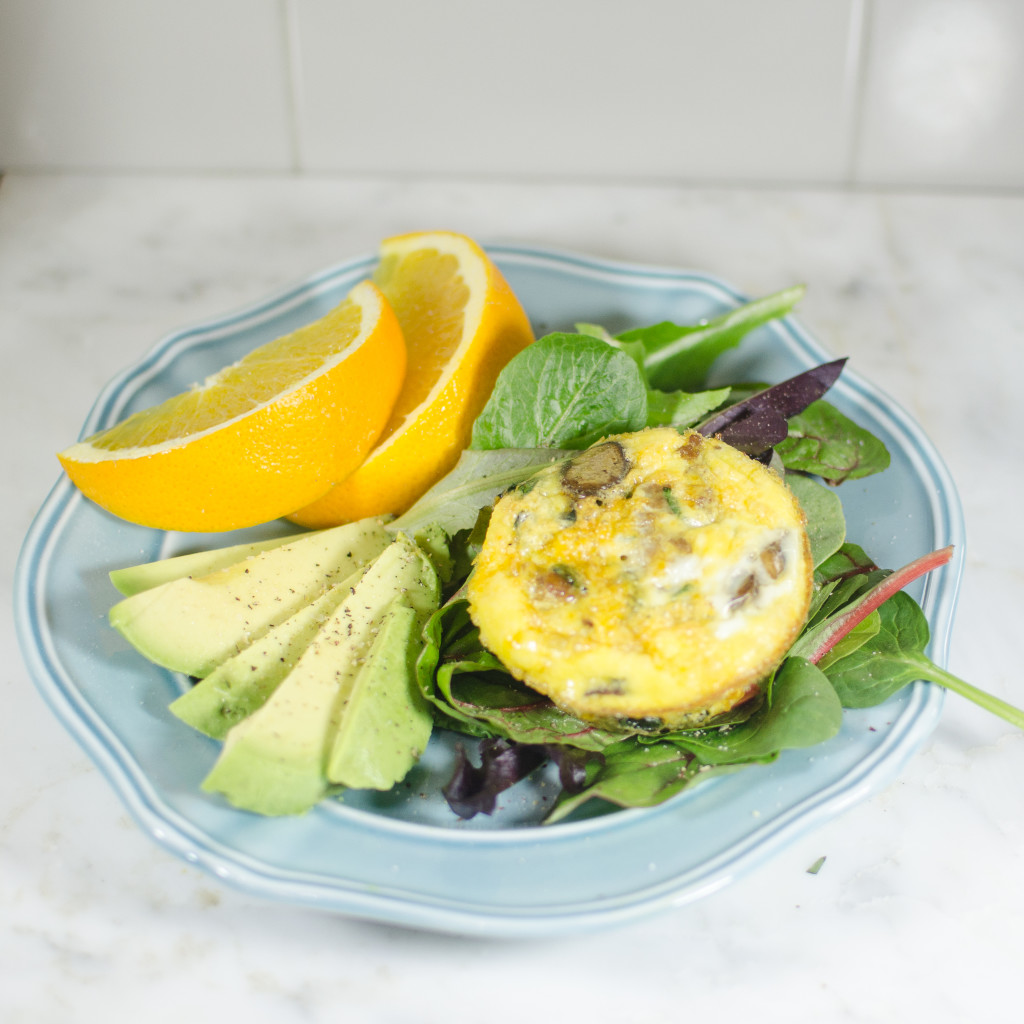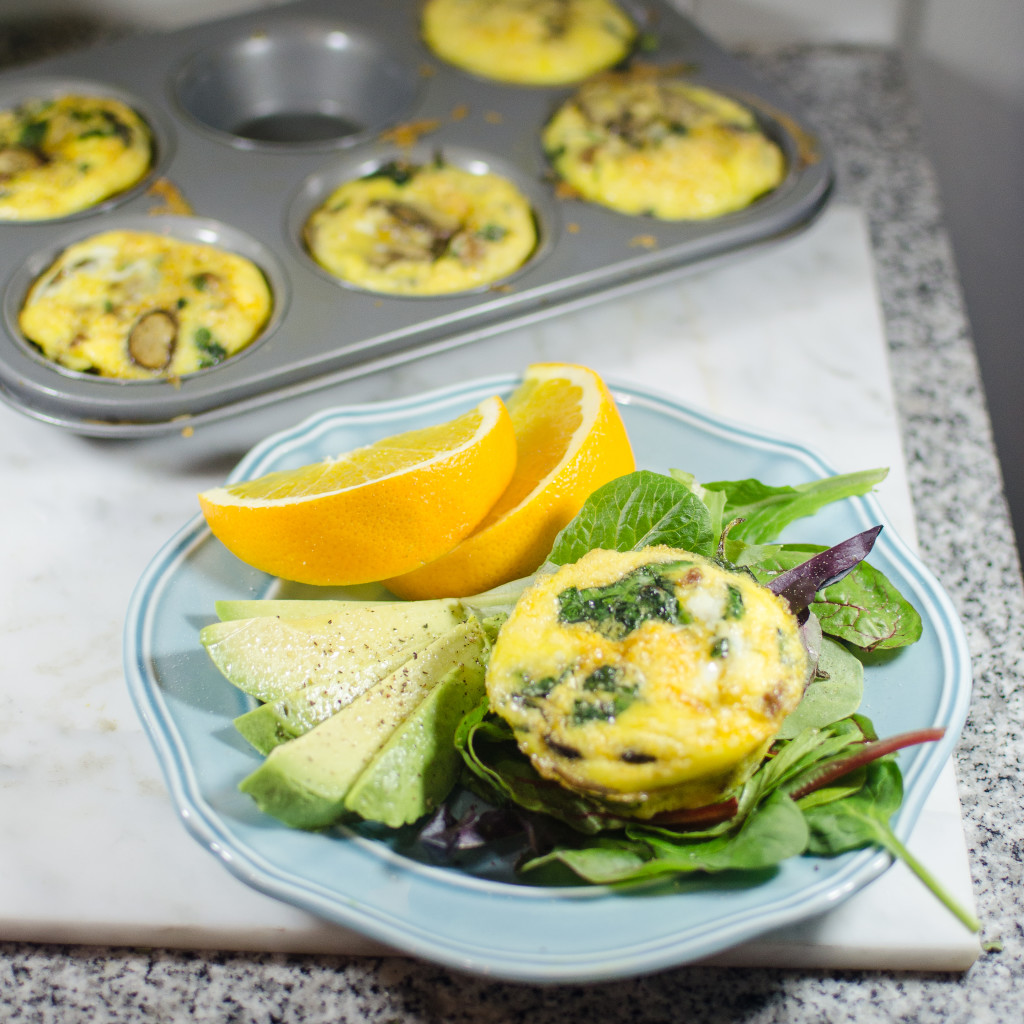 Muffin Tin Egg Recipe
Ingredients
makes 6 "muffins"
4 oz of meat (I used hot Italian sausage but you can use ham, bacon, turkey, tofu, whatever!)
2.5 cups of veggies (I used 1 cup of sliced mushrooms and 1.5 cups chopped spinach)
6 eggs
2 T. whole milk
salt + pepper + hot sauce + cheese + anything yummy to go on top
Directions
1) Preheat the oven to 350 degrees and grease a 6 cup muffin tin
.
2) Saute your meat and veggies, if it looks a little dry add 1/2 T. canola oil, until cooked through.
3) Whisk eggs and milk together in bowl (use one with a pouring spout for easier pouring!).
4) Divide the meat/veggie filling evenly among the 6 cups.  Pour egg mixture on top of filling, you can fill it all the way to the top – they won't run over when they bake.
5) Bake for 18-20 minutes or until cooked through.